Thacker je jedan od najzanimljivijih današnjih teoretičara - kozmički pesimizam, Ligotti, horror filmovi i filozofija, black metal i metafizički mrak, okultizam i tehnologija, poganizam i sablasti, biopolitika i svijet "nakon života"...
Evo nekoliko njegovih tekstova.
Cosmic Pessimism
continent. 2.2 (2012): 66–75
We're Doomed.
Pessimism is the night-side of thought, a melodrama of the futility of the brain, a poetry written in the graveyard of philosophy. Pessimism is a lyrical failure of philosophical thinking, each attempt at clear and coherent thought, sullen and submerged in the hidden joy of its own futility. The closest pessimism comes to philosophical argument is the droll and laconic "We'll never make it," or simply: "We're doomed." Every effort doomed to failure, every project doomed to incompletion, every life doomed to be unlived, every thought doomed to be unthought.
Pessimism is the lowest form of philosophy, frequently disparaged and dismissed, merely the symptom of a bad attitude. No one ever needs pessimism, in the way that one needs optimism to inspire one to great heights and to pick oneself up, in the way one needs constructive criticism, advice and feedback, inspirational books or a pat on the back. No one needs pessimism, though I like to imagine the idea of a pessimist activism. No one needs pessimism, and yet everyone—without exception—has, at some point in their lives, had to confront pessimism, if not as a philosophy then as a grievance—against one's self or others, against one's surroundings or one's life, against the state of things or the world in general.
There is little redemption for pessimism, and no consolation prize. Ultimately, pessimism is weary of everything and of itself. Pessimism is the philosophical form of disenchantment—disenchantment as chanting, a chant, a mantra, a solitary, monophonic voice rendered insignificant by the intimate immensity surrounding it.
In pessimism, the first axiom is a long, low, funereal sigh.
~*~
We're Still Doomed.
No one has time for pessimism. After all, there are only so many hours in a day. Whatever our temperament, happy or sad, engaged or disengaged, we know pessimism when we hear it. The pessimist is usually understood as the complainer, forever pointing out what is wrong with the world without ever once offering a solution. But more often than not pessimists are the quietest of philosophers, submerging their own sighs within the lethargy of discontent. What little sound it makes is of interest to no one—"I've heard it all before," "tell me something I don't know," sound and fury, signifying nothing. In raising problems without solutions, in posing questions without answers, in retreating to the hermetic, cavernous abode of complaint, pessimism is guilty of that most inexcusable of Occidental crimes—the crime of not pretending it's for real. Pessimism fails to live up to the most basic tenet of philosophy—the "as if." Think as if it will be helpful, act as if it will make a difference, speak as if there is something to say, live as if you are not, in fact, being lived by some murmuring non-entity both shadowy and muddied.
Had it more self-assurance and better social skills, pessimism would turn its disenchantment into a religion, possibly calling itself The Great Refusal. But there is a negation in pessimism that refuses even such a Refusal, an awareness that, from the start, it has already failed, and that the culmination of all that is, is that all is for naught.
Pessimism tries very hard to present itself in the low, sustained tones of a Requiem Mass, or the tectonic rumbling of Tibetan chant. But it frequently lets loose dissonant notes at once plaintive and pathetic. Often, its voice cracks, its weighty words abruptly reduced to mere shards of guttural sound.
~*~
Maybe It's Not So Bad, After All.
If we know pessimism when we hear it, this is because we've heard it all before—and we didn't need to hear it in the first place. Life is hard enough. What you need is a change of attitude, a new outlook, a shift in perspective... a cup of coffee.
If we have no ears for pessimism, this is because it is always reducible to something as reliably mutable as a voice. If pessimism is so frequently disparaged, it is because it brings everyone down, determined as it is to view each day as a bad day, if only by virtue of the fact that it is not yet a bad day. For pessimism the world is brimming with negative possibility, the collision of a bad mood with an impassive world. In fact, pessimism is the result of a confusion between the world and a statement about the world, a confusion that also prevents it from fully entering the hallowed halls of philosophy. If pessimism is so often dismissed, this is because it is often impossible to separate a "bad mood" from a philosophical proposition (and do not all philosophies stem from a bad mood?)
The very term "pessimism" suggests a school of thought, a movement, even a community. But pessimism always has a membership of one—maybe two. Ideally, of course, it would have a membership of none, with only a scribbled, illegible note left behind by someone long forgotten. But this seems unrealistic, though one can always hope.
~*~
Anatomy of Pessimism.
Though it may locate itself at the margins of philosophy, pessimism is as much subject to philosophical analysis as any other form of thought. Pessimism's lyricism of failure gives it the structure of music. What time is to the music of sorrow, reason is to a philosophy of the worst. Pessimism's two major keys are moral and metaphysical pessimism, its subjective and objective poles, an attitude towards the world and a claim about the world. For moral pessimism, it is better not to have been born at all; for metaphysical pessimism, this is the worst of all possible worlds. For moral pessimism the problem is the solipsism of human beings, the world made in our own image, a world-for-us. For metaphysical pessimism, the problem is the solipsism of the world, objected and projected as a world-in-itself. Both moral and metaphysical pessimism are compromised philosophically; moral pessimism by its failure to locate the human within a larger context, and metaphysical pessimism by its failure to recognize the complicity in the very claim of realism.
This is how pessimism makes its music of the worst, a generalized misanthropy without the
anthropos
. Pessimism crystallizes around this futility—it is its
amor fati
, rendered as musical form.
~*~
Melancholy of Anatomy.
There is a logic of pessimism that is fundamental to its suspicion of philosophical system. Pessimism involves a
statement
about a
condition
. In pessimism each statement boils down to an affirmation or a negation, just as any condition boils down to the best or the worst.
With Schopenhauer, that arch-pessimist, the thinker for whom the philosopher and the curmudgeon perfectly overlap, we see a no-saying to the worst, a no-saying that secretly covets a yes-saying (through asceticism, mysticism, quietism), even if this hidden yes-saying is a horizon at the limits of comprehension. With Nietzsche comes the pronouncement of a Dionysian pessimism, a pessimism of strength or joy, a yes-saying to the worst, a yes-saying to this world as it is. And with Cioran yet another variation, futile yet lyrical, a no-saying to the worst, and a further no-saying to the possibility of any other world, in here or out there. With Cioran one approaches, but never reaches, an absolute no-saying, a studied abandonment of pessimism itself.
The logic of pessimism moves through three refusals: a no-saying to the worst (refusal of the world-for-us, or Schopenhauer's tears); a yes-saying to the worst (refusal of the world-in-itself, or Nietzsche's laughter); and a no-saying to the for-us and the in-itself (a double refusal, or Cioran's sleep).
Crying, laughing, sleeping—what other responses are adequate to a life that is so indifferent?
~*~
Cosmic Pessimism.
Both moral and metaphysical pessimism point to another kind, a pessimism that is neither subjective nor objective, neither for-us nor in-itself, and instead a pessimism of the world-without-us. We could call this a
cosmic pessimism
... but this sounds too majestic, too full of wonder, too much the bitter aftertaste of the Great Beyond. Words falter. And so do ideas. And so we have a cosmic pessimism, a pessimism that is first and last a pessimism about
cosmos
, about the necessity and possibility of order. The contours of cosmic pessimism are a drastic scaling-up or scaling-down of the human point of view, the unhuman orientation of deep space and deep time, and all of this shadowed by an impasse, a primordial insignificance, the impossibility of ever adequately accounting for one's relationship to thought—all that remains of pessimism is the desiderata of affects—agonistic, impassive, defiant, reclusive, filled with sorrow and flailing at that architectonic chess match called philosophy, a flailing that pessimism tries to raise to the level of an art form (though what usually results is slapstick).
~*~
Song of Futility.
An ethics of futility pervades pessimism. Futility, however, is different from fatality, and different again from simple failure (though failure is never simple). Failure is a breakage within the heart of relations, a fissure between cause and effect, a fissure hastily covered over by trying and trying again. With failure, there is always plenty of blame to go around; it's not my fault, it's a technical difficulty, it's a miscommunication. For the pessimist, failure is a question of "when," not "if"—failure as a metaphysical principle. Everything withers and passes into an obscurity blacker than night, everything from the melodramatic decline of a person's life to the banal flickering moments that constitute each day. Everything that is done undone, everything said or known destined for a kind of stellar oblivion.
When scaled up in this way, failure becomes fatality. Fatality is the hermeticism of cause and effect. In fatality, everything you do, whatever you do, always leads to a certain end, and ultimately to the end—though that end, or the means to that end, remain shrouded in obscurity. Nothing you do makes a difference because everything you do makes a difference. Hence the effects of your actions are hidden from you, even as you deceive yourself into thinking that, at last, this time you will outwit the order of things. By having a goal, planning ahead, and thinking things through carefully, we attempt, in a daily Prometheanism, to turn fatality to our advantage, to gain a glimpse of an order that seems buried deeper and deeper in the fabric of the universe.
But even fatality has its comforts. The chain of cause and effect may be hidden from us, but that's just because disorder is the order we don't yet see; it's just complex, distributed, and requires advanced mathematics. Fatality still clings to the sufficiency of everything that exists... When fatality relinquishes even this idea, it becomes futility. Futility arises out of the grim suspicion that, behind the shroud of causality we drape over the world, there is only the indifference of what exists or doesn't exist; whatever you do ultimately leads to no end, an irrevocable chasm between thought and world. Futility transforms the act of thinking into a zero-sum game.
~*~
Song of the Worst.
At the center of pessimism lies the term
pessimus
, "the worst," a term as relative as it is absolute. The worst is about as bad as it gets, "the worst" as "the best" in disguise, shrouded by the passage of time or the twists and turns of fortune. For the pessimist, "the worst" is the propensity for suffering that gradually occludes each living moment, until it eclipses it entirely, overlapping perfectly in death... which, for the pessimist, is no longer "the worst."
Pessimism is marked by an unwillingness to move beyond "the worst," something only partially attributable to a lack in motivation. In pessimism "the worst" is the ground that gives way beneath every existent—things could be worse,
and
, things could be better. "The worst" invariably implies a value judgment, one made based on scant evidence and little experience; in this way, pessimism's greatest nemesis is its moral orientation. Pessimism's propositions have all the
gravitas
of a bad joke.
Perhaps this is why the true optimists are the most severe pessimists—they are optimists that have run out of options. They are almost ecstatically inundated by the worst. Such an optimism is the only possible outcome of a prolonged period of suffering, physical or metaphysical, intellectual or spiritual. But does this not also describe all the trials and tribulations of each day—in short, of "life?" It seems that sooner or later we are all doomed to become optimists of this sort (the most depressing of thoughts...)
~*~
Song of Doom.
Rather than serving as a cause for despair, gloom and doom are the forms of consolation for any pessimist philosophy. Neither quite affects nor quite concepts, gloom and doom transform pessimism into a
mortification
of philosophy.
Doom is not just the sense that all things will turn out badly, but that all things inevitably come to an end, irrespective of whether or not they really do come to an end. What emerges from doom is a sense of the unhuman as an attractor, a horizon towards which the human is fatally drawn. Doom is humanity given over to unhumanity in an act of crystalline self-abnegation.
Gloom is not simply the anxiety that precedes doom. Gloom is literally atmospheric, climate as much as impression, and if people are also gloomy, this is simply the by-product of an anodyne atmosphere that only incidentally involves human beings. Gloom is more climatological than psychological, the stuff of dim, hazy, overcast skies, of ruins and overgrown tombs, of a misty, lethargic fog that moves with the same languorousness as our own crouched and sullen listening to a disinterested world.
In a sense, gloom is the counterpoint to doom—what futility is to the former, fatality is to the latter. Doom is marked by temporality—all things precariously drawn to their end—whereas gloom is the austerity of stillness, all things sad, static, and suspended, a meandering smoke hovering over cold lichen stones and damp fir trees. If doom is the terror of temporality and death, then gloom is the horror of a hovering stasis that is life.
At times I like to imagine that this realization alone is the thread that connects the charnel ground Aghori and the graveyard poets.
~*~
Song of Spite.
There is an intolerance in pessimism that knows no bounds. In pessimism spite begins by fixing on a particular object of spite—someone one hardly knows, or someone one knows too well; a spite for this person or a spite for all of humanity; a spectacular or a banal spite; a spite for a noisy neighbor, a yapping dog, a battalion of strollers, the meandering idiot walking in front of you on their smart phone, large loud celebrations, traumatic injustices anywhere in the world regurgitated as media blitz, spite for the self-absorbed and overly performative people talking way too loud at the table next to you, technical difficulties and troubleshooting, the reduction of everything to branding, spite of the refusal to admit one's own errors, of self-help books, of people who know absolutely everything and make sure to tell you, of all people, all living beings, all things, the world, the spiteful planet, the inanity of existence...
Spite is the motor of pessimism because it is so egalitarian, so expansive, it runs amok, stumbling across intuitions that can only half-heartedly be called philosophical. Spite lacks the confidence and the clarity of hatred, but it also lacks the almost cordial judgment of dislike. For the pessimist, the smallest detail can be an indication of a metaphysical futility so vast and funereal that it eclipses pessimism itself—a spite that pessimism carefully places beyond the horizon of intelligibility, like the experience of dusk, or like the phrase, "it is raining jewels and daggers."
~*~
Song of Sleep.
A paraphrase of Schopenhauer: what death is for the organism, sleep is for the individual. Pessimists sleep not because they are depressed, but because for them sleep is a form of ascetic practice. Sleep is the
askesis
of pessimism. If, while sleeping, we have a bad dream, we abruptly wake up, and suddenly the horrors of the night vanish. There is no reason to think that the same does not happen with the bad dream we call "life."
~*~
Song of Sorrow.
Nietzsche, commenting on pessimism, once castigated Schopenhauer for taking things too lightly. He writes:
...Schopenhauer, though a pessimist, really—played the flute. Every day, after dinner: one should read his biography on that. And incidentally: a pessimist, one who denies God and the world but comes to a stop before morality—who affirms morality and plays the flute... what? Is that really—a pessimist?
We know that Schopenhauer did possess a collection of instruments, and we also know that Nietzsche himself composed music. There is no reason to think that either of them would ever banish music from the Republic of philosophy.
But Nietzsche's jibes at Schopenhauer are as much about music as they are about pessimism. For the pessimist who says no to everything and yet finds comfort in music, the no-saying of pessimism can only be a weak way of saying yes—the weightiest statement undercut by the flightiest of replies. The least that Schopenhauer could've done is to play the bass. I'm not a big fan of the flute, or, for that matter, wind instruments generally. But what Nietzsche forgets is the role that the flute has historically played in Greek tragedy. In tragedy, the flute (
aulos
) is not an instrument of levity and joy, but of solitude and sorrow. The Greek
aulos
not only expresses the grief of tragic loss, but it does so in a way that renders weeping and singing inseparable from each other. The classicist Nicole Loraux calls this the
mourning voice
. Set apart from the more official civic rituals of funerary mourning, the mourning voice of Greek tragedy constantly threatens to dissolve song into wailing, music into moaning, and the voice into a primordial, disarticulate anti-music. The mourning voice delineates all the forms of suffering—tears, weeping, sobbing, wailing, moaning, and the convulsions of thought reduced to an elemental unintelligibility.
In the collapsed space between the voice that speaks and the voice that sings, pessimism discovers its mourning voice. Pessimism: the failure of sound and sense, the disarticulation of
phone
and
logos
.
Have we rescued Schopenhauer from Nietzsche? Probably not. Perhaps Schopenhauer played the flute to remind himself of the real function of the mourning voice—sorrow, sighs, and moaning rendered indistinguishable from music, the crumbling of the human into the unhuman. Failure
par excellence
of pessimism.
~*~
Song of Nothing.
In Buddhist thought, the First Noble Truth of existence is encapsulated in the Pali term
dukkha
, conventionally translated as "suffering," "sorrow," or "misery." The Buddhist teachings are clear, however, that this is an objective claim, and not simply one point of view among others. Existence is suffering and sorrow—and yet this is not, the teachings tell us, a pessimistic attitude.
It is likely that Schopenhauer, reading the Buddhist texts available to him, recognized some filiation with the concept of
dukkha
. But
dukkha
is a multi-faceted term. There is, certainly,
dukkha
in the usual sense of the suffering, strife, and loss associated with living a life. But this is, in turn, dependent on the finitude and temporality of
dukkha
, existence as determined by impermanence and imperfection. And this ultimately points to the way in which both suffering and finitude are grounded by the paradoxical groundlessness of
dukkha
as a metaphysical principle—the insubstantiality and the emptiness of all that is. Beyond what is worse to me, beyond a world ordered for the worst, there is the emptiness of
dukkha
as an impersonal suffering... the tears of the cosmos.
In this context, it is easy to see how Schopenhauer's pessimism attempts to compress all the aspects of
dukkha
into a nothingness at the core of existence, a Willlessness coursing through the Will. Though one thing for certain is that with Schopenhauer we do not find the "ever-smiling" countenance of Buddhism—or do we?
The texts of the Pali Canon also contain lists of the different types of happiness—including the happiness of renunciation and the strange happiness of detachment. But Buddhism considers even the different types of happiness as part of
dukkha
, in this final sense of nothingness or emptiness. Perhaps Schopenhauer understood Buddhism better than he is usually given credit for. Thus the experiment of Schopenhauer's philosophy—the point at which a Western
pessimus
and an Eastern
dukkha
overlap or exchange glances. Empty sorrow, a lyricism of indifference. The result is a strange, and ultimately untenable, nocturnal form of Buddhism.
~*~
Cioran once called music a "physics of tears." If this is true, then perhaps metaphysics is its commentary. Or its apology.
~*~
Pessimism would be more mystical were it not for its defeatism. Mysticism is much too proactive for the pessimist, and pessimism too impassive even for the mystic. At the same time, there is something enviable about mysticism—despite its sufferings. There is a sense in which pessimists are really failed mystics.
~*~
You, the Night, and the Music.
In a suggestive passage, Schopenhauer once noted that, "music is the melody to which the world is the text."
Given Schopenhauer's view on life—that life is suffering, that human life is absurd, that the nothingness before my birth is equal to the nothingness after my death—given all this, one wonders what kind of music Schopenhauer had in mind when he described music as the melody to which the world is text—was it opera, a Requiem Mass, a madrigal, or perhaps a drinking song? Or something like
Eine kleine Nachtmusik
, a little night music for the twilight of thought, a sullen
nocturne
for the night-side of logic, an era of sad wings sung by a solitary banshee.
Perhaps the music Schopenhauer had in mind is music eliminated to non-music. A whisper would suffice. Perhaps a sigh of fatigue or resignation, perhaps a moan of despair or sorrow. Perhaps a sound just articulate enough that it could be heard to dissipate.
~*~
Teach me to laugh through tears.
~*~
Pessimism always falls short of being philosophical. My back aches, my knees hurt, I couldn't sleep last night, I'm stressed-out, and I think I'm finally coming down with something. Pessimism abjures all pretenses towards system—towards the purity of analysis and the dignity of critique. We didn't really think we could figure it out, did we? It was just passing time, taking a piss, something to do, a bold gesture put forth in all its fragility, according to rules that we have agreed to forget that we made up in the first place. Every thought marked by a shadowy incomprehension that precedes it, and a futility that undermines it. That pessimism speaks, in whatever voice, is the singing testimony to this futility and this incomprehension—take a chance and step outside, lose some sleep and say you tried...
~*~
Is there a music of pessimism? And would such a music be audible?
~*~
The impact of music on a person compels them to put their experience into words. When this fails, the result is a faltering of thought and language that is itself a kind of music. Cioran writes: "Music is everything. God himself is nothing more than an acoustic hallucination."
~*~
If a thinker like Schopenhauer has any redeeming qualities, it is that he identified the great lie of Western culture—the preference for existence over non-existence. As he notes: "If we knocked on the graves and asked the dead whether they would like to rise again, they would shake their heads."
In Western cultures it is commonly accepted that one celebrates birth and mourns death. But there must be a mistake here. Wouldn't it make more sense to mourn birth and celebrate death? Strange though, because the mourning of birth would, presumably, last the entirety of that person's life, so that mourning and living would the be same thing.
~*~
To the musical idea of the harmony of the universe corresponds the philosophical principle of sufficient reason. Like the music of mourning, pessimism gives voice to the inevitable breakdown of word and song. In this way, music is the overtone of thought.
~*~
The Patron Saints of Pessimism.
The patron saints of pessimism watch over suffering. Laconic and sullen, the patron saints of pessimism never seem to do a good job at protecting, interceding, or advocating for those who suffer. Perhaps they need us more than we need them.
Lest we forget, there do exist patron saints of philosophy, but their stories are not happy ones. There is, for instance, the fourth century Saint Catherine of Alexandria, or Catherine of the Wheel, named after the torture device used on her. A precocious fourteen year old scholar, Catherine was subject to continual persecution. After all forms of torture failed—including the "breaking wheel"—the emperor finally settled for her decapitation, a violent yet appropriate reminder of the protector of philosophers.
There are also patron saints of music and musicians, but theirs too are sad stories. In the second century, Saint Cecilia was also subject to persecution and torture. As she knelt to receive the blade that would separate her head from her body, she ardently sang a song to God. It took three attempts before she was fully decapitated, all the while she continued, perhaps miraculously, to sing.
Does pessimism not deserve its own patron saints, even if they are unworthy of martyrdom? But in our search, even the most ardent nay-sayers frequently lapse into brief moments of enthusiasm—Pascal's love of solitude, Leopardi's love of poetry, Schopenhauer's love of music, Nietzsche's love of Schopenhauer, and so on. Should one then focus on individual works of pessimism? We could include Kierkegaard's trilogy of horror—
Sickness Unto Death
,
The Concept of Dread
, and
Fear and Trembling
—but all these are undermined by their fabricated and unreliable authors. Besides, how can one separate the pessimist from the optimist in works like Unamuno's
The Tragic Sense of Life
, Shestov's
Postetas Clavium
, or Edgar Saltus' under-read
The Philosophy of Disenchantment
? Even in cases where the entire corpus of an author is pessimistic, the project always seems incomplete—witness Cioran's trajectory, from his first book,
On the Heights of Despair
, to the last unpublished notebooks of acrid and taut aphorisms. And this is to say nothing of literary pessimism, from Goethe's sorrowful Werther, to Dostoevsky's underground man, to Pessoa's disquiet scribbler; Baudelaire's spleen and ennui, the mystical Satanism of Huysmans and Strindberg, the hauntologies of Mário de Sá-Carniero, Izumi Kyoka, H.P. Lovecraft, grumpy old Beckett... even the great pessimist comedians. All that remains are singular, perhaps anomalous statements of pessimism, a litany of quotes and citations crammed into fortune cookies.
Patron saints are traditionally named after a locale, either a place of birth or of a mystical experience. Perhaps the better approach is to focus on the places where pessimists were forced to live out their pessimism—Schopenhauer facing an empty Berlin lecture hall, Nietzsche mute and convalescent at the home of his sister, Wittgenstein the relinquished professor and solitary gardener, Cioran grappling with Alzheimer's in his tiny writing alcove in the Latin Quarter.
~*~
There's a ghost that grows inside of me, damaged in the making, and there's a hunt sprung from necessity, elliptical and drowned. Where the moving quiet of our insomnia offers up each thought, there's a luminous field of grey inertia, and obsidian dreams burnt all the way down.
~*~
If pessimism has any pedagogical value, it is that the failure of pessimism as a philosophy is inextricably tied to the failure of pessimism as voice. I read the following, from Shestov's
The Apotheosis of Groundlessness
:
When a person is young he writes because it seems to him he has discovered a new almighty truth which he must make haste to impart to forlorn humankind. Later, becoming more modest, he begins to doubt his truths: and then he tries to convince himself. A few more years go by, and he knows he was mistaken all round, so there is no need to convince himself. Nevertheless he continues to write, because he is not fit for any other work, and to be accounted a superfluous person is so horrible.
References
A talk given at "A Special Form of Darkness—Arika Episode II," Glasgow, 26 February, 2012
.
Open Commentary to Eugene Thacker's "Cosmic Pessimism"
continent. 2.2 (2012): 76–81
Comments on Eugene Thacker's "Cosmic Pessimism"
Nicola Masciandaro
Anything you look forward to will destroy you, as it already has.
—Vernon Howard
In pessimism, the first axiom is a long, low, funereal sigh.
The cosmicity of the sigh resides in its profound negative singularity. Moving via endless auto-releasement, it achieves the remote.
"Oltre la spera che piú larga gira / passa 'l sospiro ch'esce del mio core" [Beyond the sphere that circles widest / penetrates the sigh that issues from my heart].1
The axiomatic sigh of the pessimist is in a way the pure word of philosophy, a thought that thinks without you, speaks where you are not. The live pneumatic form of the soul's eventual exit from the dead body's mouth, the sigh restores consciousness to the funeral of being, to the passing away that is existence. Pessimism speaks in piercing aphorisms because first it sighs. "Beyond the sphere passeth the arrow of our sigh. Hafiz! Silence."
2
… pessimism is guilty of that most inexcusable of Occidental crimes—the crime of not pretending it's for real.
To the pessimist, the 'real' world—the world on whose behalf we are expected to wake up in the morning—is a ceaseless index of its own unreality. The pessimist's day is not an illumined space for the advancement of experience and action, but a permanently and inescapably reflective zone, the vast interior of a mirror where each thing is only insofar as it is, at best, a false image of itself. Within this speculative situation, inside the doubleness of the mirror, pessimism splits into two paths, false and true, one that tries to fix pessimism (establish a relation with the mirror) and decides in favor of the apparent real, and another that totally falls for pessimism (enters the mirror) and communes with the greater reality of the unreal. These two paths are distinguished by their relation to pessimism's guilt vis-à-vis the world's reality-project. The first form, that which remains pessimism for the world and puts on a smiling face, stays guilty to itself (i.e. unconscious) and thus turns hypocritical, becoming at once the pessimism of the commoner who really just wants things to be better for himself and the pessimism of the elite who wants to critically refashion reality in his own image. The general form of this worldly, hypocritical pessimism is the impulse to 'make the world a better place', which is the global mask under which the world is diurnally made worse. The second form, that which follows pessimism away from the world and ceases to put on a smiling face, refuses guiltiness as itself theessential Occidental mode of pretense and turns honest, becoming at once the intelligent pessimism required of all ordinary action and the radical pessimism necessary for self-knowledge: seeing that no one is capable of doing good. The general form of this universal, honest pessimism is the impulse not to worry, to give up and embrace dereliction, which is the only real way the world is actually improved. Where worldly pessimism is the engine productive of interminably warring secular and sacred religions (good-projects), universal pessimism strives hopelessly for the paradise of a supremely instantiated pessimus: things are getting so bad that there is no longer any time for them to get worse; things are so constantly-instantly worst that this is BEST. Cosmic pessimism is the mode of universal pessimism which can yet discourse with the world, which has not chosen silence and can spread the inconceivably BAD NEWS in an orderly form (
kosmos
) that the world can understand (if it wanted to).
… the result of a confusion between the world and a statement about the world.
That is what the world is (the result of a confusion between the world and a statement about the world).
… a generalized misanthropy without the anthropos. Pessimism crystallizes around this futility—it is its amor fati, rendered as musical form.
Pessimism's love of fate is a blind love, a love of the blindness of being human in a cosmos conceived around the human's eclipse, a heavy levitation in the contradictory space between the inescapability of its having been and the impossibility of its will-be. Pessimism's song of futility is a sensible way of loving fate, with a minimum of eros, by means of a kind of matrimonial love of the fatal. As music, pessimism stays open to the irreparable and the inexorable without the binding of affirmation, in the apparent absence of the radical, infinitely surplus will that absolute amor fati seems to require.
Crying, laughing, sleeping—what other responses are adequate to a life that is so indifferent?
"Unless a man aspires to the impossible, the possible that he achieves will scarcely be worth the trouble of his achieving it. We should aspire to the impossible, to absolute and infinite perfection [….] The apocatastasis is more than a mystical dream: it is a norm of action, it is a beacon for high deeds [….] For true charity is a species of invasion [….] It is not charity to rock and lull our fellow men to sleep in the inertia and heaviness of matter, but rather to arouse them to anguish and torment of spirit."
3
… the impossibility of ever adequately accounting for one's relationship to thought.
"The paroxysm of interior experience leads you to regions where danger is absolute, because life which self-consciously actualizes its roots in experience can only negate itself [….] There are no arguments [….] On the heights of despair, the passion for the absurd is the only thing that can still throw a demonic light on chaos [….]
I live because the mountains do not laugh and the worms do not sing
."
4
It took three attempts before she was fully decapitated, all the while she continued, perhaps miraculously, to sing.
According to the earliest account of Cecilia's martyrdom, the beheading turns out worse. After not severing her head in three strokes, "the cruel executioner left her half dead" (seminecem eam cruentus carnifex dereliquit).
5
Cecilia's effortlessly powerful endurance of the three strokes—a fitting icon for pessimism as an art of dereliction—demonstrates the "passivity and absence of effort [….] in which divine transcendence is dissolved."
6
There's a ghost that grows inside of me, damaged in the making, and there's a hunt sprung from necessity, elliptical and drowned. Where the moving quiet of our insomnia offers up each thought, there's a luminous field of grey inertia, and obsidian dreams burnt all the way down. Like words from a pre-waking dream.
There is no reason to think that they are not.
NOTES
1. Dante Alighieri.
Vita Nuova
. ed. and trans. Dino S. Cervigni and Edward Vasta. Notre Dame: University of Notre Dame Press. 1995. 41:10.
2. Hafiz of Shiraz.
The Divan
. trans. H. Wilberforce Clarke. London: Octagon Press. 1974. 10.9.
3. Miguel de Unamuno.
The Tragic Sense of Life in Men and Nations
. trans. Anthony Kerrigan. Princeton: Princeton University Press. 1972. 305-6.
4. E.M. Cioran.
On the Heights of Despair
. trans. Ilinca Zarifopol-Johnston. Chicago: University of Chicago Press. 1992. 9-10.
5. Giacomo Laderchi.
S. Caeciliae Virg[inis] et Mart[yris] Acta. . .
Rome. 1723. 38.
6. Georges Bataille.
On Nietzsche
. trans. Bruce Boone. London: Continuum. 2004. 135. See Nicola Masciandaro. "
Half Dead: Parsing Cecilia
."
A Commentary on Eugene Thacker's "Cosmic Pessimism"
Gary J. Shipley
Pessimism is the refusal to seek distraction, the refusal to remodel failure into a platform for further (doomed) possibilities, the refusal of comfort, the acceptance of the sickness of healthy bodies, the cup of life overflowing with cold vomit. If, as Ligotti suggests when discussing
Invasion of the Body Snatchers
,
1
humans prefer the anxieties of their familiar human lives to the contentment of an alien one, then the pessimist, we could argue, represents some perverted combination of the two, preferring (presuming he has a choice) the defamiliarization of human life to the contentment of its unquestioned mundanity.
The quasi-religious state of mind that Wittgenstein would mention on occasion, that of "feeling
absolutely
safe,"
2
is a state the pessimist could only imagine being approximated by death, or perhaps some annihilative opiate-induced stupor. This Wittgensteinian commingling of certainty and faith looks every bit the futile gesture, a mere rephrasing of collapse or partial collapse. The only certainty open to the pessimist is that of the toxic formula of life itself—a formula known and lacuna-free. Certainty, far from being the gateway to deliverance, becomes the definitive impediment; and the possibility of salvation, as long as it remains, becomes crucially reliant on postulations of ignorance, epistemic gaps, a perennial incompleteness: "the perfect safety of wooed death […] the warm bath of physical dissolution, the universal unknown engulfing the miniscule unknown."
3
The height of Leibniz's Panglossian insanity nurtured the idea that our knowing everything—via the universal calculus—could be accurately described a triumph, as opposed to a nightmare in which our every futility is laid bare. Stagnancy and boredom are perhaps two of the greatest ills of Western civilisation, and the most potent pessimism tells you that you're stuck with both. The most we can hope for, by way of salvation, is to throw open our despair to the unknown.
The fact that Schopenhauer's pessimism stopped short of morality and allowed him to play the flute, as Nietzsche complained, highlights the predicament of a man who despite having adorned nothingness with a smiling face still found himself alive. The demand here is that it be felt: a cross-contamination of intellect and emotion. The safety net of numerous parentheses makes for a failed philosophy, rather than a philosophy of failure.
Depressives make bad pessimists, because, unless they choose to die, living will always infect them with necessities of hope, forcing them to find something, anything (all the various "as ifs") to make existence tolerable. For as Cioran observed, while "[d]epressions pay attention to life, they are the eyes of the devil, poisoned arrows which wound mortally any zest and love of life. Without them we know little, but with them, we cannot live."
4
And even when cured of our depressions we'll find ourselves consumed, eaten alive by the hyper-clinical (borderline autistic) mania that replaces them: a predicament captured all too clearly in the microscriptual fictions of Robert Walser, where spectral men and women stifle their depressive madness with protective comas of detail, their failed assimilations buried beneath thick crusts of remote data. Like Beckett's Malone their stories may have ended, but cruelly their lives have not.
Pessimism is an extraneous burden (a purposeless weight) that makes everything else harder to carry, while at the same time scooping it out and making it lighter.
If pessimism had a sound it would be the harsh non-noise of tinnitus—the way that every person would hear themselves if they refused their distractions long enough to listen: a lungless scream from the extrasolar nothing of the self. The music of pessimism—if indeed we can imagine such a thing—is the reverberating echo of the world's last sound, conjectured but never heard, audible only in its being listened for. The one consolation of this hollow paradox of audibility being, that "he will be least afraid of becoming nothing in death who has recognized that he is already nothing now."
5
The pessimist suffers a derangement of the real, a labyrinthitis at the nucleus of his being: he's the stumbling ghost relentlessly surprised that others can see him.
If Cioran's refusal is manifested in sleep (when even saying 'no' is too much of a commitment), then Pessoa's resides in the dreams inside that sleep. Pessoa chooses to exploit the fact that he's being "lived by some murmuring non-entity both shadowy and muddied"
6
by growing more voids to live him. His is a Gnostic breed of sleep, "sleeping as if the universe were a mistake,"
7
a sleep that dreams through Thacker's cosmic pessimism ("a pessimism of the world-without-us.", "the unhuman orientation of deep space and deep time"
8
), through the critical error of there being anything at all when there could be nothing.
The metaphysical pessimist is someone who, however well life treats them, still desires to wake from it, as from the poisonous air of a bad dream.
Pessimism is a paradox of age, being simultaneously young and old; its youth residing in a refusal to accept the authority of existence (its rich history, its inherent beneficence), a refusal to "get over" the horror of what it sees with its perpetually fresh eyes, and its maturity in the unceremonious disposal of the philosophical playthings (those futile architectures) of adolescence. As Thacker remarks: "Pessimism abjures all pretenses towards system—towards the purity of analysis and the dignity of critique."
9
A sentiment shared with Pessoa, who duly categorizes those that choose to enact this futile struggle: "The creators of metaphysical systems and of psychological explanations are still in the primary stage of suffering."
10
If the pessimist has shared a womb with anyone, it's with the mystic and not the philosopher. As Schopenhauer tells us: "The mystic is opposed to the philosopher by the fact that he begins from within, whereas the philosopher begins from without. […] But nothing of this is communicable except the assertions that we have to accept on his word; consequently he is unable to convince."
11
The crucial difference between the mystic and the pessimist is not the latter's impassivity and defeatism, but his unwillingness/inability to contain in any way the spread of his voracious analyticity, his denial of incompleteness, his exhaustive devotion to failure.
The truth of our predicament, though heard, is destined to remain unprocessed. Like the revelations of B.S. Johnson's Haakon ("We rot and there's nothing that can stop it / Can't you feel the shaking horror of that?"
12
) the pessimist's truths are somehow too obvious to listen to, as if something inside us were saying, "Of course, but haven't we gotten over that?"
Pessimism is simple and ugly, and has no desire to make itself more complex or more attractive.
The true moral pessimist knows that the Utilitarian's accounts will always be in the red. He can see that for all his computational containments, his only honest path is a negative one, and that such a path has but one logical destination: that of wholesale human oblivion.
Thacker notes how at the core of pessimism lies the notion of "the worst," through which death is demoted by the all-pervasive suffering of a life that easily eclipses its threat. And so with doom made preferable to gloom, death begins to glint with promise, "like beauty passing through a nightmare."
13
But even among pessimists suicide is, for the most part, thought to be an error. Schopenhauer, for instance, regarded suicide a mistake grounded in some fundamentally naïve disappointment or other. Pessoa too thought suicide an onerous escape tactic: "To die is to become completely other. That's why suicide is a cowardice: it's to surrender ourselves completely to life."
14
There is a call here to be accepting of and creative with the puppetry of your being, an insistence that it's somehow a blunder to attempt to hide in death from the horrors you find inlife.
15
Tied up with this perseverance is the slippery notion of the good death, for maybe, as Blanchot warns, suicide is rarely something we can hope to get right, for the simple reason that "you cannot make of death an object of the will."
16
"Even in cases where the entire corpus of an author is pessimistic, the project always seems incomplete,"
17
and this is not simply because the project itself belies something yet to be disclosed, but because the project itself is a thing waiting. It waits on a cure it knows will not come, but for which it cannot do anything (as long as it continues to do anything) but wait.
NOTES
1. See Thomas Ligotti.
The Conspiracy Against the Human Race
. New York: Hippocampus Press. 2010. 91.
2. Ludwig Wittgenstein. "A Lecture on Ethics."
Philosophical Review
. (74) 1. 1965. 8.
3. Vladimir Nabokov.
Pale Fire
. New York: Vintage. 1989. 221.
4. E. M. Cioran.
The Book of Delusions
. trans. Camelia Elias. Hyperion. 5.1. (2010): 75.
5. Arthur Schopenhauer.
The World as Will and Representation. vol. 2
. trans. E .F J. Payne. New York: Dover. 1966. 609.
6. Eugene Thacker. "Cosmic Pessimism."
continent.
. 2.2 (2012): 67.
7. Fernando Pessoa.
The Book of Disquiet
. trans. Richard Zenith. London: Penguin. 2002. 35.
8. Eugene Thacker. "Cosmic Pessimism."
continent.
. 2.2 (2012): 68.
9. Ibid. 73.
10. Fernando Pessoa.
The Book of Disquiet
. trans. Richard Zenith. London: Penguin. 2002. 341.
11. Arthur Schopenhauer.
The World as Will and Representation. vol. 2
. trans. E .F J. Payne. New York: Dover. 1966. 610-11.
12. B.S Johnson. "You're Human Like the Rest of Them." in Jonathan Coe.
Like a Fiery Elephant: The Story of B.S. Johnson
. London: Picador. 2004. 177.
13. Fernando Pessoa.
The Book of Disquiet
. trans. Richard Zenith. London: Penguin. 2002. 415.
14. Ibid. 199.
15. "Suicide is, after all, the opposite of the poem." Anne Sexton.
No Evil Star: Selected Essays, Interviews and Prose
. ed. Steven Gould Axelrod. Ann Arbor: University of Michigan Press. 1985. 92.
16. Maurice Blanchot.
The Space of Literature
. trans. Ann Smock. Lincoln: University of Nebraska Press. 1989. 105.
17. Eugene Thacker. "Cosmic Pessimism."
continent.
. 2.2 (2012): 75.
WE ARE NOT FROM HERE
By Eugene Thacker

,

19 March 2013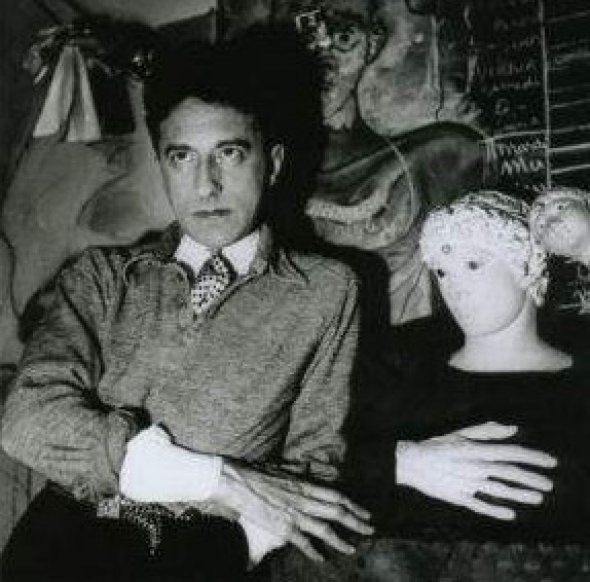 The idea of an American pessimism is an oxymoron. In a culture that thrives on entrepreneurialism, pharmacology and self-help, 'pessimism' is simply a fancy name for a bad mood. In a culture that prizes the can-do, self-starter attitude, to be a pessimist is simply to be a complainer; if you're not part of the solution, then you're part of the problem. To live in such a culture is to constantly live in the shadow of an obligatory optimism, a novel type of coercion that is pathologised early on in child education in the assessment: 'Does not like to play with others.'
Zapffe is an important figure for Ligotti. He not only extends the pessimistic diagnosis of thinkers like Schopenhauer, but he steadfastly refuses any panacea or redemption to the situation. Ligotti summarises the mountain-climbing philosopher's position:
In this situation, Zapffe diagnosed the various means that we as human beings have developed for staving off the radically misanthropic tendencies of consciousness (these include strategies such as isolating such thoughts from our everyday lives, anchoring them in belief systems such as religion or science, distracting ourselves with the here and now, and therapeutic sublimation of such thoughts in artistic expression). Zapffe's conclusions were starkly anti-natalist: not only should we cease to procreate, he suggests, but we should consider the best means by which we as a species can facilitate an extinction that is, in Zapffe's opinion, both inevitable and long overdue.
This is what intimately ties horror to philosophy – not that philosophy, which explains everything, would explain horror, making it both meaningful and actionable for us, but that philosophy – all philosophy – eventually discovers within itself a hard limit to what can be known, what can be thought, and what can be said. If works of supernatural horror are 'philosophical' it is not because they have explained anything – quite the reverse.
And in a sense this also means that what characterises pessimistic philosophies, particularly the kind that Ligotti is drawn to, is that they have internalised this lesson from the literary tradition of supernatural horror – thinkers like Schopenhauer, Mainländer, or Zapffe unknowingly write philosophy as if they were writers of horror fiction; they make this shift from a philosophy of horror to a horror of philosophy:
THE MOURNING OF ANTI-MUSIC
PHILOSOPHICAL DOOMCORE
By Eugene Thacker
Here it is important to note that Schopenhauer's pessimism is of a particular type. Philosophical pessimism is generally of two types: a moral pessimism and a metaphysical pessimism. In moral pessimism, one expresses an attitude about the world that takes the worst possible view of things. The moral pessimist at his or her height can take any phenomenon, no matter how apparently joyful, beneficial, or happy, and turn it into the worst possible scenario (even if only to note that every positive only paves the way for a negative). This is the typical view of the glass being half-empty. Note that moral pessimism is pessimistic because its view is pessimistic, irrespective of what is happening in the world. The tendency to take the worst view of things, or the tendency to always expect the worst, is about an interpretation of the world, not about the world in itself.
This changes once one moves from moral pessimism to metaphysical pessimism. In the former one expresses an attitude about the world, whereas in the latter one makes claims about the world itself. This is the view that it is the objective property of all glass in itself to be partially empty. Metaphysical pessimism is more than just a bad attitude, it makes claims about the way in which the world in itself is structured or ordered. For the metaphysical pessimist, the world itself is ordered in the worst possible way and is structured such that it always leads to the worst possible ends. For the metaphysical pessimist, saying that this is the worst of all possible worlds is less a case of being grumpy and more a statement about the radical antagonism between the world itself and our wants and desires.
While Schopenhauer expresses both of these types of pessimism, he remains dissatisfied with both, for both rely on a stable division between a human subject and a non-human world within which the subject is embedded. The only difference is that with moral pessimism, we have a subjective attitude about the worst of all possible worlds, and with metaphysical pessimism we have an objective claim about the worst of all possible worlds. But both views, being concerned with 'the worst', implicitly rely on an anthropocentric view – either one is stuck with a bad attitude or one is stuck in a bad world. (As Sid Waterman once noted, 'I see the glass half full, but full of poison.')
OCCULTURAL STUDIES 1.0: BLACK METAL
OCCULTURAL STUDIES 2.0: PASSIONATE DIVAS
By Eugene Thacker

,
Double Negative Feedback' expresses the hope that the chaos unleashed by the cybernetic loops
Doomed divas, the stars of Italian silent cinema, bring the sacrificial passions of the mystic down to earth, producing new and radical effects - writes Eugene Thacker
I begin with the closing scene from the 1917 film Rapsodia Satanica (Satanic Rhapsody), directed by Nino Oxilia. In it, a demon appears to the aged Countess Alba D'Oltravita, played by silent film diva Lyda Borelli. The demon makes her an offer: you will have eternal youth and beauty, but in return you will forever be unable to love. The Countess accepts this Faustian bargain - beauty for love - and what ensues in the film is a series of wonderfully torrid, impassioned, and ultimately tragic love affairs, as the young Countess, now the impresario of the Castle of Illusion, struggles to confront her life as ahorror vacui. In the final scenes of the film, the Countess (as if having come to the realisation that love is indeed colder than death), finds herself inside a room littered with roses. From there she enters a room of mirrors, where she finds herself lost amid shrouds and dim lights. From this play of images she slowly wanders outside into a courtyard, with the night breeze blowing her shroud over her face. She continues to wander beyond the courtyard and into the dark forest ahead. With only her silhouette visible, we see her gradually disappear into the embrace of an enigmatic and shadowy figure.
The dense symbolism of films like Satanic Rhapsody is at once classical and modern. The play of rose and mirror is juxtaposed with the modernist dilemma of nature (outdoor gardens, forests, and lakes) versus artifice (Art Nouveau interiors and ornamented design). And these, of course, turn back on the dilemma of gender, passion and subjectivity in the era of industrial factories, war and Futurism. During this period, the Italian silent film brought together elements of culture that not only helped to shape modern film genres, but more importantly prompted reflection about the spiritual and the material. Films such as L'Inferno (1911; an adaptation of Dante) and Maciste all'inferno (1924) outlined the contours of the horror film, with their struggles between good and evil, and fantastic voyages to the underworld. Other films, such as Assunta Spina (1915), Malombra (1917), and Ma l'Amor Mio non Muore (1913; Everlasting Love) did the same for melodrama and romance, placing strong, often defiant, female characters within the turbulent confines of European modernity.
Angela Dalle Vacche's book
Diva: Defiance and Passion in Early Italian Cinema
is a wonderful account of this period and these dilemmas. But my reason for writing about it here has less to do with film studies, gender politics or modernism than with the astounding performances in these films.
i
We know the basic plots of many of them - complex, conflicted characters drawn into sordid love affairs that
obviously
are not going to work out, resulting in unrequited love, melancholy, madness or death. This is the birth of melodrama in film. And with these films comes a host of issues particular to the time and place of their production - the modern woman, the city and the factory, new forms of class struggle and so on. But what still amazes me today are the scenes in nearly every diva film, in which the main female character - played by divas such as Francesca Bertini, Pina Menichelli, and Lyda Borelli - has a cataclysmic revelation about the essentially tragic nature of her love, and possibly all love, insofar as it is intimately related to loss and death. These revelations far surpass the revelation of the first flowerings of love. They are affective realisations, and their main manifestation is in and through the flesh. The whole body is wracked with convulsions of emotional terror, the eyes bug out transfixed on a point far away in space, people around one don't know how to react, one's hair comes undone, and one's clothes are formless and dishevelled (make-up is still intact but that's only because it heightens the emotional effect).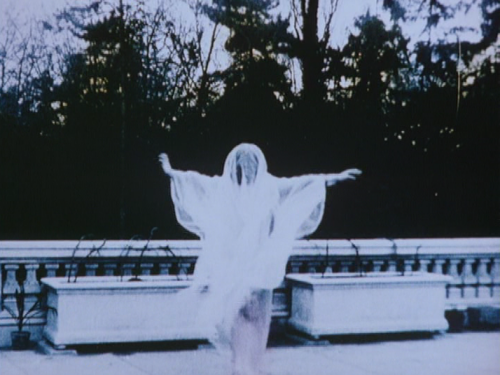 Image: Still from Nino Oxilia's Rapsodia Satanica (1917)
These sorts of scenes are so bizarre that to reduce them to psychoanalysis (e.g. hysterical fits) seems too tame; really they evoke pre-modern accounts of demonic possession or its exact inverse, mystical ecstasy. What is interesting about the diva films is their undercurrent of terror and tragedy - a Gothic love that exclaims, as the heroine of a certain film does, 'only in death can we truly belong to one another.' Or, as the characters in another diva film state, 'in the graveyard of the soul, love will bloom.' I would even say that these films are exemplary of a modernist secular discourse surrounding mysticism and the forms of its mediation. But there's a difference from the traditional accounts of the mystical itinerary - the primary way in which the diva film interrogates mystical experience is not via prayer, but via passion.
Passion is strange. On the one hand, we are accustomed to the romantic notion of passion as tied up with a range of emotional and psychological states that are, for better or worse, peculiarly human states. One may have a passion for music or film, one may have feelings of passion for another person, and there are of course crimes of passion. But philosophers tell us again and again that passions are neither within our control, nor are they about us as human beings living out our human natures. Descartes, for example, wrote a treatise known as The Passions of the Soul (Les passions de l'âme, c. 1649), in which he emphasised the connection between passions in the baser, more mechanistic sense (as with the instinctual drives of animals), and passions as they touch the human spirit, making the subject not only aware of his or her passions, but moving them to action based on them. The discourse on passions during the Enlightenment would take this further, as shown in the works of Kant, Burke and Adam Smith on the passions. There is an economy of passions intimately tied to moral and ethical discourse, an economy that ranges from empathy to antipathy.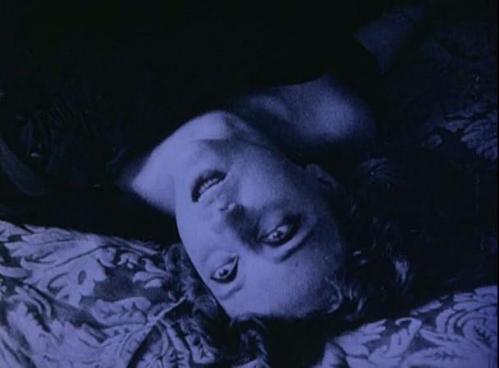 Image: One of Lyda Borelli's moments of cataclysmic revelation
But it is Spinoza who gives us what is perhaps the strangest and, in a way, most uncompromisingly materialist view of passion. Passion is at once the most extreme form of human expression, and yet the most unhuman, anonymous and alien thing. In Spinoza's metaphysics, passions are a material and energetic property of the world, and while we human beings may have an acute awareness of passions acting in and through us, there is no reason to think that passions begin or end with the human subject. The key to understanding passions, for Spinoza, lies in their 'passive' quality. Passions have a strange anonymity to them; they appear to come from without, invading and possessing the self until we mistake the effect for the cause. Anterior to what we feel, to the feelings that we possess and that are our feelings, there is the background flux of affecting and being affected (the 'modes'), and ultimately of a single continuum coursing through the world ('substance'). In Spinoza's world, we seem to be effects of a cause that we as human beings can neither intuit nor comprehend.
This idea of 'unhuman passion' is at the centre of early cinema, particularly those films that deal with passion in the genres of horror and melodrama. Dalle Vacche's book provides a case study for the latter genre. She focuses on the figure of the diva in early Italian film - actresses who portray female characters who at once refuse the normative roles placed before them (both cinematic and social), while also choosing to embrace the passions that possess them. The diva is, without a doubt, a highly romanticised figure in the history of film, often represented as a strong female character who loves defiantly and uncompromisingly. Because of this, the roles played by silent film divas such as Lyda Borelli are often tragic roles - in many instances, love unavoidably overlaps with death.
However, the point is not simply about unrequited love, illicit affairs or the allures of the femme fatale. Instead, Dalle Vacche points to links between the terms diva and divine, suggesting that the diva in early melodrama is really a modernist incarnation of the mater dolorosa - the sorrowful mother, an archetype in Renaissance art (most famously portrayed in Michelangelo's Pietà). The diva is thus placed ambivalently 'within an oscillation between mystical-visionary and hysteric-melancholic postures.' Indeed, many scenes from diva films feature long takes that function as a sort of tableau vivant of the mater dolorosa, the diva frozen in a cataclysm of melancholy, depression or mourning.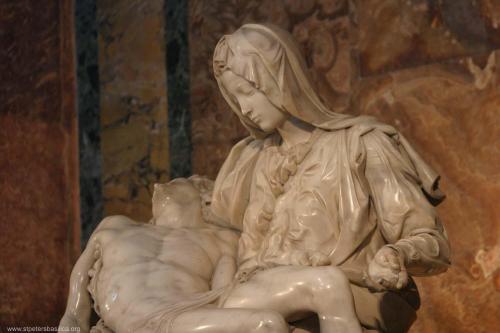 Image: Michelangelo's Pietà housed in St. Peter's Basilica in Vatican City
But while the Renaissance
mater dolorosa
was governed by the motifs of maternal sacrifice, the silent film diva represents a challenge to this classical link between passion and mysticism. The Renaissance
mater dolorosa
is self-sacrificing and self-effacing before a paternalistic God and a sacrificial son. Divine law governs the passion and suffering of this figure. The silent film divas do not simply reverse this by resorting to the '80s power-suit version of gender politics. Instead, in many films the diva undergoes a self-effacing process, one that both challenges social norms, while making the diva's relation to gender ambivalent. Either the diva is forced to normalise - and we feel a different kind of tragedy take place - or the diva opts for the only avenue left open, her own death. Despite the themes of illicit romance and lost love, in Dalle Vacche's hands the diva film is really about the horizon of gender, and the horizon of the human itself. In fact, one could argue that in some diva films it is the human itself that is effaced. As Dalle Vacche notes, 'the society in which the diva lives accepts a woman only if she fits within a self-effacing role of some kind [...] her general way of suffering stems from either the painful choice to remain in the past or the lonely decision to break the rules.'
ii
If the Renaissance
mater dolorosa
represents a sacrifice of the divine for the human (Christ as the sacrificed god-man), then the diva film represents the sacrifice of the human for the divine - but 'divine' understood here more in terms of passion and the unhuman. Clearly, there is no happy ending to the diva film. But it is equally clear that, in challenging gender as a whole, the diva's defiance is also directed towards the human
per se
. And it is passion that becomes the means, or the
medium
, through which the diva effaces the human.
It is in this sense that the diva's melo-dramatic itinerary bears more similarity to the mystical itinerary than to the banal and interminable therapeutics of the modern, psychoanalytic subject. I think this is the underlying critical point of Dalle Vacche's study, and indeed of early melodrama film in general. In her book, Dalle Vacche shows how an intersection of influences informed the diva film: early 20th century theosophy and occultism, Bergsonian vitalism, Gramscian Marxism, the Decadentism of D'Annunzio, the Ballet Russes, Art Nouveau fashion and the motif of the circus. But the thread that runs through all these influences is that of the diva as the mystic of modernity. In the diva film, passion is always embodied - wracked with suffering, the diva's body contorts and twists, is suddenly stiff with grief, then slumps into an inert mass on the bed or the floor. Passion is always material - the diva's clothes become shapeless, formless shrouds around her body, contrasted by the stark, minimalist set design that surrounds her. The diva is spiritual precisely in this material sense.
The diva brings together a densely embodied sense of passion with a spiritual affectivity that can only be described as demonic or ecstatic. While many diva films inevitably lead to the diva's death, the diva film rarely dwells on her corpse. Neither is there any vision of beatific light. Instead, as in the closing scenes of
Satanic Rhapsody
, the diva simply abandons the entire theatre of human drama; she wanders off into the night forest, having already disappeared behind veils of clothing, curtains and partitions. This type of mysticism, in which it is the human itself that is sacrificed, brings together the erotic and the mystical, leading to what Georges Bataille described as 'the gulfs of terrifying darkness that belong equally to them both.'
iii
In this moment, exemplary of the 'dying to oneself' found in so many mystical texts, the diva embodies this ambivalent combination of the height of passion with the depths of sorrow. 'At the very moment when it is poured out in extravagant profusion life has an aim that seems to contradict the losses it so feverishly makes sure of.'
iv
Eugene Thacker <
thackere@newschool.edu
> is a New York based writer and the author of Horror of Philosophy (forthcoming from Zero Books). He teaches at The New School and is a scholar-in-residence at the Miskatonic University Colloquy for Inexistent Cryptobiology
Info:
Angela Dalle Vacche, Diva: Defiance and Passion in Early Italian Cinema, University of Texas Press, 2008
i
Clips of the diva films are available on the book's accompanying DVD, Diva Dolorosa.
ii
Angela Della Vache, Diva: Defiance and Passion in Early Italian Cinema, p.7.
iii
Georges Bataille, Eroticism: Death and Sensuality, trans. Mary Dalwood (San Francisco: City Lights, 1986), p.222.
OCCULTURAL STUDIES 3.0: DEVIL'S SWITCHBOARD
According to Socrates, it was a demon that prevented him from entering a career in politics:
If divine beatitude is the culmination of religious subjectivity, ascending towards a union with the divine (that is, towards total immersion, total immediacy), then demonic possession is the dissolution of the subject, its scattering and dissipation (an absolute disconnect, total opacity, total inaccessibility). In this regard I read Maggi's emphasis on language, rhetoric and performance in a wider context - that of media, mediation, and the current obsession with global connectivity, the absolutism of sharing, and total accessibility.
Maggi highlights this treatise because in it, demonic possession is not the mysterious and sudden eclipse of a human subject, body and soul. Instead, Prierio posits a method by which the demon possesses, or speaks through, the human being. Drawing on Augustinian theories of the speech of angels, as well as Thomistic theories on the analogy between angelic intelligences and human cognition, Prierio suggests that there is an order and a code to demonic possession in which the demon utilises logic as a way of invading the human being. For Aquinas, angels traditionally manifest themselves via certain signs that human beings can read. These include the apprehension of visions and voices, as well as the witnessing of unusual phenomena in nature. The movement is a unilateral one, from a God beyond speech and silence, to the mediations of angels, who produce a 'language' that human beings can read, thereby indirectly connecting the human to the divine. By reading these signs backwards, with, of course, the right kind of scriptural and theological knowledge, one could affirm communication with supernatural creatures, while also decoding their divine messages.
The demon's logic is, of course, a perverted logic. For Prierio, demons are also concerned with communication with the human being, though their motives are quite different. Demons do make contact with the human, and they do attempt to express themselves through signs, codes, and symptoms. But while angels were understood to manifest the divine presence ('messengers of God'), demons neither have a God whose message they are delivering, nor, for that matter, a coherent message that would benefit, assist, or caution the human subject. For the possessed, all that remains is the inability to speak, a mouth that doesn't utter words but that vomits, and a language of non-sense and babbling. In short, the mediation of demons is that of hyper-communication (babbling, nonsense, speaking in tongues), the unspeakable body (convulsions, vomiting, self-mutilation), or silence (melancholy, catatonic states). Demons do mediate, but in a negative or contradictory way.
In Prierio's theory, demons intercept messages, re-direct and modify them, and sometimes mimic the language of both human and angel. One is tempted to say it: while angels ensure effective and clear communication, demons insert noise into the system; if angels are systems adminstrators, then demons are hackers. The picture Prierio creates is of a whole invisible layer between the earthly and the divine, with words, images, memories, prayers, and phantasms projected and directed between the human and God, with angels sorting and filtering the messages. It is in this middle layer, this preternatural ether, that demons intervene. In fact, Prierio even goes so far as to postulate that demons occupy the air, and this allows them to be formless and metamorphic, to be carried along on the wind and to become any form and any shape. Maggi concisely summarises Prierio's theory of demons:
Image: Vomit from beyond
The level of voice (the human) becomes the battleground where the exorcist must separate human from non-human utterances, and distinguish authentic human language from the simulacra of the demon. Whether through external signs (strange behaviour, cold chills, sudden pain, convulsions) or through internal signs (strange thoughts, words, or phrases in the mind), the demon is adept at embodying and performing the language of the voice, and at performing the human itself. Indeed, sometimes the external and internal signs become one and the same, as with one exorcism Maggi mentions, in which the exorcist gives the possessed person a potion of herbs, vinegar and olive oil, exorcising the potion with the words 'I exorcise you, natural blend, which is able to induce vomit, in the name of God the Almighty, creator of your healing virtue...' Drawing an analogy to the parable of Jonah and the whale, the exorcism commands the possessed human subject to enunciate the name of the demon in the act of vomiting. The demon's name is hurled forth, and, at least in this case, communication is synonymous with vomit. This is emblematic of many of the texts Maggi discusses - a form of demonic mediation that manifests itself at once through negation and absence (the demons never speak in their own voice, never show their face), and yet through what Georges Bataille once called a 'base materialism,' one of bodily fluids and divine vomit.