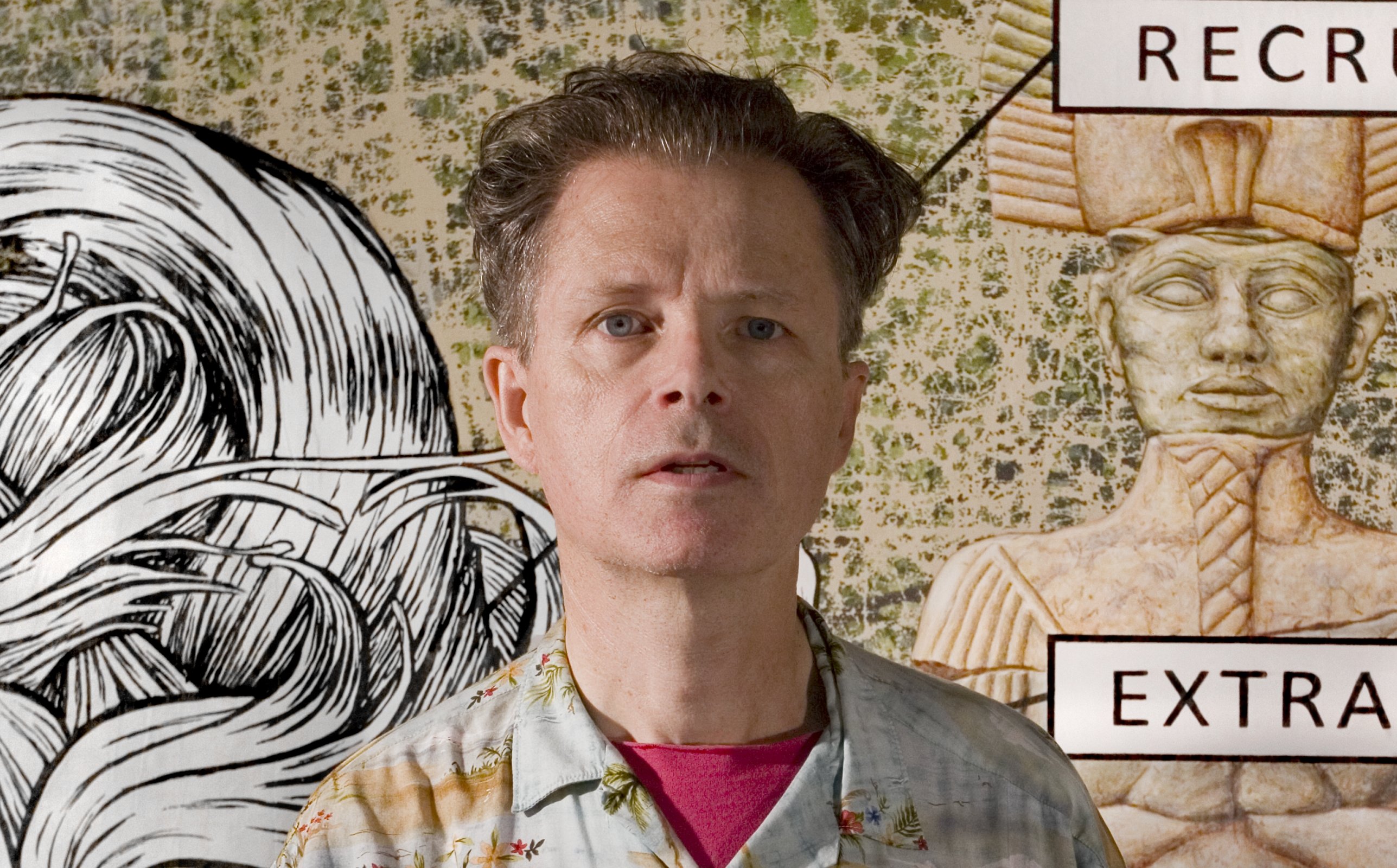 Dokumentarac o jednom od najvećih osobenjaka vizualnih medija. Bio je i u ranoj postavi protopunk benda Destroy All Monsters. san mu je dovršiti prog-rock operu (nadahnutu omotnicama ploča benda Yes). Okušao se u 100 stilova i područja rada. Smislio je vlastitu satiričnu religiju O-ism.
Njegov niz slobodno stojećih objekata moguće je "čitati" kao knjigu a "strip" mu nije objavljen kao knjiga nego kao niz "izvornih djela" izloženih na zidu.
Jim Shaw works in Glendale amongst machine shops and mechanics garages, not too far from a large number of car dealerships. Shaw's studio is non-descript among them except that it is filled full of piles and piles of projects, assorted paintings and papers, severed movie prop Satan heads and all sorts of ephemera. He has always worked this way, deploying a number of styles, as likely to do a painstaking super-realistic drawing as he is to do a sculpture of a Ganesha with his own head perched atop. I found Shaw at his easel for a painting destined for Art Basel, one of a series he started a few years back mixing painting what he calls "his best attempt at Abstract Expressionism" with a floating head hovering on the surface, which Shaw paints in pieces from ripped photographs. The head today was a Zombie, and Shaw himself was quiet.
"I guess you are going to ask me questions," he said quietly, looking intensely through two sets of eyeglasses worn together, "These paintings are sort of my art market suicide net, but the irony is that they ended up being one of my most popular series ever."
I stayed relatively quiet and just let Shaw talk, and talk he did, scanning topics from Rudolf Steiner Waldorf schools to progressive rock operas to anxiety over what he feels is the troubling legacy of Reagan's vision of America. He talked up his upbringing in Michigan, the house he recently purchased there, and his sympathies with the plight of Detroit. A flashpoint of all these topics was his description of his upcoming show in Bordeaux, France, a series of theatrical backdrops that he did years back and felt obliged to show. He casually calls them the 'left behind paintings.'
"The backdrops have much to do with political considerations, especially with how things changed under the Reagan and Bush years. Basically, they respond to a change in philosophy from 'if you work hard, you'll succeed' to 'if you gamble well, you might succeed.' I think about what I call the great siege of Detroit, or that's what I call it, which I consider to be sort of the last battle of the civil war. I feel that the country could have saved Detroit. Maybe it's the right wing's revenge, the price we paid for free trade and globalization. In the civil war, the south was left in tatters and now the same thing is happening in the north with supplanting of labor for free trade. Detroit falls into ruin."
Shaw wears his Michigan history and talks of the decline of unions and the plight of American industry. All of this, according to Shaw, is closely connected to the popular culture that America produces, its emphasis on religion, even America's taste for the apocalypse.
"Americans are obsessed with the book of revelation," Shaw related in a deap-pan monotone, "People, I think ultimately, don't want to live forever, struggling and working their butts off. I was raised Episcopalian and that doesn't really count. I remember the preacher told us sermons based on Peanut comics. Religion always lurks in the background of society. Even though people try to be un-materialistic, you are always brought down to the physical world. I send my daughter to a Rudolf Steiner school, but it is hard to co-exist in a capitalistic world without being slightly capitalist."
Shaw is so interested in religion's influence on culture and its structures that he has been working for a number of years on a religion of his own, called O-ism.
"In 1993, I started working on my own religion, which I call O-ism. It is a basically a religion rooted in its American founding. O-ism is based on Mormonism and Scientiology, it is an American based religion. It is basically founded by a feminist in upstate New York, a place which has been the basis of other cults like the Universal Friends, that were founded near Kueka lake, this area that is even more depressed than Detroit. At the height of the Eerie canal, this area was like California, it was popular. O-ism, founded there in my history, eventually loses its roots, becoming less feminist and more corporate, starts out at anti-materialism but slowly gets more and more materialistic. It is long slog for new ideas, I want to work on its pre-history, its mythologies."
When I asked how religion plays into the Bordeaux work, he spoke again of the "left behind" series of works and how they will be presented:
"Alongside the backdrops, I will display my archive of old Christian artifacts and I think that they relate to the 'left behind' paintings, to how people cling to religion when labor and American power starts to slip. The archive is the pop of the Christian Right and is related to the Reagan revolution. These objects were never hip and are still not hip, and I have no trouble winning any of this stuff on Ebay. The backdrops are related to the decimation of Detroit or Chicago. The back drops are kind of a Roger Deanish world. He did all the Yes album covers."
The Bordeaux show, it seems, is one result of a yet unrealized project of Shaw. He loves music and often performs with his studio band as well as "about once every five years" with Destroy All Monsters, his band with Mike Kelley and Cary Loren. His dream is to complete a progressive rock opera.
"The prog rock opera that I want to work on is related to the imagery on those Yes Album covers. The prog rock opera might turn out to be an interesting failure, but I am sometimes interested in how a creative process can go wrong. My original intention with the Bordeaux show was to present the musical and new work, but I am showing these backdrops. With the Glenn Beckification of the world these days led me to conclude that these political works are not in vain. I would love to be doing my prog rock opera, but I am not Steve Howe. I look to Sun Ra and Captain Beefheart as what I would do if I was a musician, bring diverse lives into the work."
Shaw is most known for, perhaps, his dream drawings, a series of works that he began in the early nineties, documenting visually the content of his dreams. I did not want the interview to end without asking about this work and its relation to Surrealism, to writers and painters that supposedly dealt with dreams in the first half of the 20th century.
"Surrealism was primarily a literary phenomenon, and it was involved with accessing the unconscious rather than with the specifics of dreams. The writers came first and the artists came later. When the visual artists worked with the idea of dreams, it was not the specifics of their own dreams, the work was more like political cartoons, Dali for example. They seemed dreamlike but weren't. My work involves the specifics of my dreams, usually steeped in popular culture. I used to tape record my dreams, speak out loud about what they were about, because I found when you write them out, they often disappear as you write. With the dreams, I try to work in a direct conscious way, a combination between the subconscious and visual conjunctions, the works are like visual puns, the visual provided different puns than writing can. For instance, the D.C. character Flash often appears in my dreams, and I figure that he is essentially the Mercury or the devil in red, he is like an amoral version of the devil."
Shaw is a workaholic and his work seems to flow from all angles of his life, and Shaw does not seem capable or interested in having a body of work separate from the background and content of his life. The ramshackle confluence of dreams perhaps sums up his practice well. Shaw, however, does admit that his multiple styles and hodgepodge approach is not the norm and perhaps antithetical to much of the artworld, and he is definitely inclined to talk about this fact.
"Most artists are concerned with singular ideas and singular works. I don't want a Big Mac approach, I don't want a particular Jim Shaw style. If I get comfortable, I move on. A Big Mac approach is a style that is recognizable, the work by which you will be remembered, it behooves you to present yourself in this way. For instance, 'I am the guy that photographs shoes.' You are taught that you shouldn't have variety. I never really had a look and always made too much work. I guess that I just can't stop, and I think that is my way of dealing with the Big Mac method, my method is dealing with the method of having a Big Mac approach."
-
flaunt.com/