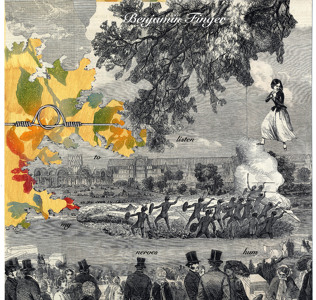 Finger je 50% norveškog dvojca That Beneva vs. Clark Nova.
Pravi ptice od dijelova starih klavira.
beneva.wix.com/benjamin-finger#!discography/c199t
Consonance Of Fear
Das Paris des Second Empire bei Benjamin:
soundcloud
Based largely around various deceptively repetitive piano movements, with the added use of voice overs and field recordings, this album moves through some quite uniquely original spaces. Subtly and overall quite filmic in nature, and quite often with a distinctive pseudo dissonant melodicism, it seemingly evokes a general feeling of unease and potentially unsettling events. Yet beneath these melancholic atmospheres lies a gentle promise of quietude and peacefulness. This album has been mastered by Lawrence English. As the title suggests...listen to your nerves hum...as you listen to this beautiful album... -
timereleasedsound.com/
It's a bird! It's a plane! It's ~ oh, wait, I was right the first time, it's a bird made out of old piano parts. We don't see this sort of thing very often! Those who are lucky enough to snag a limited edition copy of
Listen to my nerves hum
will get the chance to see it in person, but others will have to be satisfied with photos. With this release, Time Released Sound continues its run of creatively packaged releases, determined to give the physical format its best chance at longevity. 70 copies will be available in June, but for those who miss out, there will also be a vinyl edition, as well as a CD edition with five bonus tracks.
The Hammerheaded Wippin Bird is certainly unique, but so is
Benjamin Finger
, whose
Woods of Broccoli
album made me do a double-take when I first encountered it; apart from Veggie Tales, there seemed little precedent. Finger has never been one to play it safe, and
Listen to my nerves hum
is another example of the film maker / composer's playfulness. On the surface, it's a piano album, but below the surface, it's a tricky melange of music and field recordings that beguiles through light oddity and verve. At first, the piano dominates the foreground, but as the album progresses, the other sounds begin to draw the attention, which is partially a factor of what the label calls "deceptive repetition". In other words, once the ivories begin to repeat, the mind is freed to wander through the remainder of the sound field.
Fair warning: Finger does not intend to put listeners to sleep. This is not
that
kind of ambient album. Feel free to try; but anyone able to drift off quickly will be startled awake during the third piece, which contains a crash so convincing I went outside to see if my car had been vandalized. Ironically, this intrusion follows a segment of birdsong. One suspects that this might be Finger's commentary on the "typical" piano / avian blend. Much more appealing are the fireworks and cheers of "Año Nuevo Acid Crackers". Considering the local wildlife, Finger may have missed an opportunity by not including an elephant seal. The military drums of "Ode to Blissa" (the final vinyl track) also make an impact, although the early vocals cause some distraction. These occasionally pop up in other tracks as well, although they never hang around for long and are typically indistinct.
Bonus tracks are often throwaway tracks, but not so on the CD. The five additional tracks contain a couple of the album's best moments, which include some "pure" piano pieces (12-14) as well as its neatest segment (2:03-2:09 of "Voice Crackers", an alternate take on "Año Nuevo") and a new finale ("Outside of you's") which incorporates the sound of traffic and bells. But of course you'll want a piano part bird mobile to go with that, won't you? -
Richard Allen
Available here
thing's for sure – encounters with fear itself will always, consistently and without fail, return again and again during a lifespan. You can count on it. Fear leaves us feeling thoroughly jet-lagged and sends what was a placid heart-rate soaring into the high-voltage, one hundred and fifty-plus bpm levels that would probably send the normally rhythmic, black inked spikes of an ECG off the charts. Traced in black, accurate readings produce double-checks as it takes a firm grip. A pounding heartbeat is the least of your worries; the sensation invites music herself, and her compatriot notes, to play in dissonant territory, and, perhaps, never to leave.
Dissonance lends itself to whatever fear or phobia you may experience, and music is just as susceptible to this shaky set of sensations as we are ourselves. Listen To My Nerves Hum contains any and all currents of electric fear, reverberating throughout its nervous course. All of the emotional pain bleeds through the notes, running down into the thin spaces between the keys and destined for the heart of the piano.
Dissonance is allowed the space to take root, and then ascend into the music, until the blueprint is one etched in shaky hands and troubled plans. It scrapes against your sides, wanting to take you down with it, dragging you down into the depths of melancholic despair. These are the unsettling echoes that you thought you could escape.
Unexpected experimental flourishes, designed to tense every single muscle in the body, course their way through the veins of the piano and possess her frail melodies. Can you hear the door creak open? It absorbs into the very texture of the music, seeping into the cracks left behind by the deserted space, as if this fear were dripping into the very same lines separating the keys on a piano and feeding off the energy of the notes. You can hear them, feel them even, but it's only when you run your fingers along the keys that you really know they exist. It's the gap that separates the mental caverns of fear and the physical act of playing, conjuring notes that are pale and diluted of hope.
Hushed feminine vocals do little to dissipate the anxiety, although they are incredibly beautiful. Ethereal in nature, they rush around the air, but their resolutions are for the most part unfinished and land on a sour interval, one that is intentionally left hanging; a scent of the future, the upcoming omen. Repetitive movements descend like a thick, penetrating fog lingering over troubled thoughts. Despite this, a crushing beauty lives and breathes inside the tension – the sweet sound of birdsong runs lightly alongside the slightly shifting piano phrase, countering the melancholia; an endless battle between light and shade. It is a groping hand reaching through the cobwebs for the last, faint strand of promised light.
Sunshine covers 'Road To Salema' as best it can – until the female whisper announces some kind of dread, immediately covering the light with an incident that is perhaps only moments, or even seconds, away. Repetition is the key, emphasizing the nervous tension as the piano, deeply textured, flees across the music. Voices of children call out, cars blare their horns – all while the piano runs a staccato-styled series of high notes that inflates anxiety and punctures any kind of melodic revival.
'Sevilla On Tape' continues with a haunting, male cry – the previous voice is all grown up – but the cries hold the same desperation. You can't escape always escape those troubled years, even in adulthood.
You can almost feel the notes shaking. Feel the nerves hum, straddled with the weight of expectancy.
Internal dissonance sets your nerves on end, a relentless stream of notes that shouldn't go well together. Later on, an incessant, marching rhythm enters – drumroll please – like the intro to a 20th Century Fox movie. This not only increases the intensity, but it's also a very unique sound, in that it hasn't really been heard much before. You may not normally associate the two instruments in this kind of setting, but Benjamin Finger breaks down doors with his notes and shatters preconceptions with his melancholic phrases. If the music never got off the ground, Benjamin Finger would still receive full marks for bravery – something that smiles in the face of fear. As every note is played, however, the chains are slackened, until the melodies are able to release themselves fully from the grip. 'Lapse' is allowed to soar, but is this freedom? The earlier repetition seemed to hold them back, on the leash, but now they fly away.
Listen To My Nerves Hum faces her phobias. When all of the sunshine pop and major keys have dried up, unsettling situations can return in a flash – and they seep into the music here. The coda feels bittersweet, as precious melodies flirt between the light of harmony and freedom, and the anxious dissonance. It may not be as strong as it once was, but it may be at its most dangerous.
One thing's for sure – you never wanted to set foot here again. It's a place you never wanted to return to, and yet, you find yourself facing your struggle.
-
James Catchpole
for Fluid Radio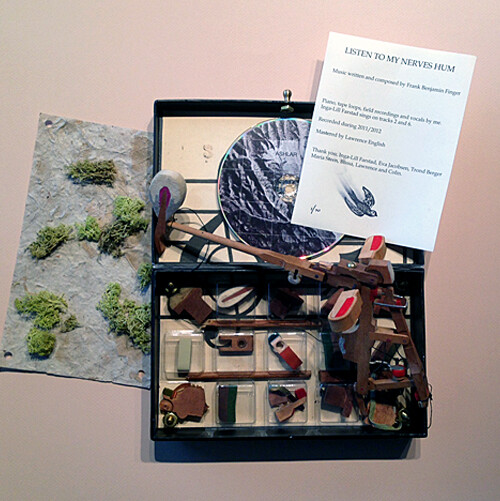 For You, Sleepsleeper (2010)
streaming
Already present on this blog is Benjamin Finger's great Woods of Broccoli and Beneva vs. Clark Nova's Dramadadatic (Benjamin Finger is one half of Beneva vs. Clark Nova, if you did not know that already). the first mentioned is introverted, often minimalist and very moody. the Beneva vs. Clark Nova album was a far more upbeat and joyous affair. these two polar opposites sort of come together on this album. it does just as good a job at being downhearted, as it does at being upbeat. and Benjamin Finger proves to be a master of many widely different styles. there's soothing synths, glimmering strings, and ethereal vocals that form a dreamy atmosphere. then all of a sudden that atmosphere gives way for catchy blip blops and kicking drum beats. everything changes rapidly and ever so often. I'd like to mention that the cover (which was designed by Bryan Voel, by the way) is gorgeously executed. its mix of mostly colourful and vivid images make up a collage. this is noteworthy because the music is in many ways the same. a collage of mostly colourful and vivid images. it's near forty minutes long, but time really does fly when it comes to this album. very much helped by the endless mix of infinite sounds and genres. it's not exactly unpredictable or random, but it's really clever and very pleasant to listen to. it's a blip and a blop and a glitch and a pop. get this. you should definitely buy it from http://www.howisannierecords.com as well. it's well worth the money. -
thatspunk.net/blog/
Benjamin Finger's album reminds me of a mellow dream. Folktronica would be the technical term for it but the sound is considerably looser than most of that genre's practitioners. The most obvious difference would be the busy nature of each song. Despite the slow nature, he creates an entire little universe out of personal field recordings, electronics, and guitar. Other folktronica may shy away from a repetitive beat (see Four Tet's entire discography for more information on this) but Benjamin embraces it.
There's a good balance between quiet and loud. Some songs barely have a beat, only disembodied voices and a guitar. Other songs are like "Drowned in Elbows" the longest and wildest song on here. You're treated to the only horns on the album which feels a bit tragic. Ben has a pretty good sense of what to do with the other tracks as well. I enjoyed the mellow, early summer feel of this album.
My favorite songs were the quieter ones, call me a bit old-fashioned. The approach to the slower ones was quite nice. Some of the more humorous ones "Her Balcony Mouth" also possessed a certain charm to them. Generally speaking the sounds are pristine, clear, almost shocking clear at a few moments where I look around me to see if something's behind me.
Really, this is a good album for cloud-watching. It is fun, mellow, and a pretty enjoyable affair.And the cover is gorgeous-looking. -
The music of Benjamin Finger is often like a mash of dissociated elements, torn from their original source and desperately trying to incorporate themselves in new pieces. Fragments of drumbeat enter at jarring tempos, melodies make wary ascensions on tenuous foundations of free-flowing harmonies, and the album works best when you can really hear the music hesitantly assembling itself – staggering to its feet and collapsing in on itself in an eternal cycle of trial and error.
Ambient electronica is at the core of all this: synthesisers and electro-beats placed in the complementary company of acoustic guitars, pianos, glockenspiels and various other pieces of acoustic instrumentation. It's a similar timbral palette to that utilised by the likes of Four Tet and Solar Fields, although the context in which it is used puts a lot of distance between Finger and these artists. Ever during its most beat-driven stretches, For You, Sleepsleeper never feels like music to dance to – it's too brittle, and each metronomic bass drum thump brings the compositions ever closer to the inevitable collapse.
In fact, the more assertive the album sounds, the less interesting it becomes – rhythm is occasionally granted too much of a foothold, steering the music into floaty, directionless jams that pale in comparison to the album's more careful and delicate compositions. Thankfully, these are rare enough to ignore for the most part ("Without Finger Features" and "Drowned In Elbows" are the only two main culprits), and overall,
For You, Sleepsleeper
leaves the listener charmed by and addicted to its hesitance and fragility. -
www.attnmagazine.co.uk/
Woods of Broccoli (2009)
streaming
The debut album Woods of Broccoli by the Norwegian musician Benjamin Finger was released by the label How Is Annie Records on the 23th of March 2009. 40-minutes record includes 10 tracks modestly joining into the single warm piece of music. The feeling is as if you were wearing an old woolen sweater with naive brightly colored pictures - greetings from childhood, music of memories about beloved toys, funny child dreams and deeds. Its mood and style almost reminds of the music which I heard in different periods on releases of labels FatCat and Moteer. Live guitars and piano as the basic material, sprayed inside the room space, and modest rustling electronics as the means for their elegant coloring. Compositions run one after another and if you play the disc on a lazy day off it could be unmentioned when it stops and starts again.
A perfect addition to music is the beautiful, slow vocal by the invited Therese Aune, Inga Lill, Anastasia and the album's author himself. The voice merges with music and they perform their main purpose - they rock you on the waves of carefree pastime and soft melancholy, and with the help of this music you want to plunge into it. -
www.soundproector.com/
We stumbled across
Benjamin Finger
a few months back during our regular internet trawls for new artists to cover. What struck us most about his style was the way he layered sounds. Take 'Vertigo Neonate' for example; you have a basic layer in the form of the acoustic guitar which drives the song, but on top of that you have a plethora of sounds jumping in and out to keep you interested. This attention to detail really is wonderful and is often lacking with artists of a similar nature. Signed to How Is Annie Records and also one half of Beneva vs. Clark Nova, Benjamin Finger really is one to keep your eye on.
Where are you from?
I was born and raised in Hamar, a small town one and a half our outside Oslo. My mother and father emigrated from Poland in the 60´s and ended up here in Norway.
How long have you been making music?
I've been making music since around 2005 or so, but I have been listening to music from as early on as I can remember. Since my father was a musician there was always lots of different music being played in our house.
How would you describe your music?
It´s a bit hard for me to describe myself, all I can say is that it has a wide range of influences. I like to think of it as something dreamy or that it has qualities of escapism attached to it, if you may. My music has many layers, I hope the listener would hear different things every time he listens to the records, and new things reveal themselves. I'm operating with as many as 50 audio tracks in one song at times, and that's a lot of sound. It's like making collages, I guess. And I'm still looking for the perfect beat.
What would you consider your main musical influences?
There are so many, really! It varies from classical music like Chopin to Lightning Bolt via Mantronix and Autechre. Stuff that keeps coming back to me is Arthur Russel, Spacemen 3, Charles Mingus, Eric Dolphy, Pharoah Sanders, Alice Coltrane, Black Dice, Broadcast, Disco Inferno, Pantha Du Prince, Gescom, Clark, Frank Zappa, Flying Lotus, Vincent Gallo, Gas, Bardo Pond, Aphex Twin, Slayer, Abbey Lincoln, Sensational, Scott Walker, Slowdive, Funkadelic, Kool Keith, Loop, Pram, Cocteau Twins and Seefeel. Lately I bought a record from Norwegian artist Lars Myrvoll called The Island (Safe As Milk, 2008) and it blew me away, really great stuff! And I like Norwegian artists like Alog, Phonophani, Andre Borgen, Elephant9 and Deathprod. Ok, I have to stop since I have something like 5000 records so the list could go on and on. What I listen to varies on my mood, time of year etc.
In terms of your roots, do feel any musical connection to it or indeed to any scene surrounding it? We've spoken to a lot of Norwegian bands and they all mention how beautiful the place is.
I haven't really given that a lot of thought, but the question does force me to reflect upon it. Hmm. let`s see. I might be influenced by some polish music like Chopen, Zbigniew Preisner and Jacaszek since some of my earlier records, like Woods of Broccoli have been described as having a soundtrack quality to it. When it comes to any scene I don't really feel like I'm a part of anything. And I don't have any goals or wishes concerning being part of one. I really strive to be an independent artist because it gives me the freedom to release different kind of records. But I would still like to say that I feel close to a place like Sound of Mu in Oslo, because of its open-minded aprroach to music of all forms, we should have had more places like that in Oslo. But you know, it's such a small city. I'm not attached to any specific genre and that's why I try to make all of my records somehow different from each other. Bring in as many new elements as I can as long as I find that interesting. So far I've been doing mostly instrumental music, but I've started toying with my voice/singing lately and you might hear more of that in the future. And yes, Norway is really a beautiful place and very inspiring when it comes to making music. We're inside our houses (unfortunately) six months a year and that gives you a lot of time to make music. It´s also easy to feel melancholic during the dark winter. And I should mention that I just got a studio in a beautiful island called Bygdøy right outside Oslo. It's really widescreen being out there with the sea and the woods and those elements are really inspirational to me. But again, given the chance I would have moved to Portugal or Spain (where my family own an apartment) on any given day. That climate suits my lifestyle much better than living in Norway. So just give me a house and a plane ticket for this interview and I'll be on my way.
What element of your music most sets you apart from other musicians/bands?
I was never educated as a musician - I did take piano and guitar lessons with my father when I was younger, but I wasn't any interested and didn't become very good. I guess that happens with everything you are forced to do when you're a kid. My father even sent me to a piano teacher, but that didn't help much either. I do approach all of my music with the curiosity of a kid. I never know what's around the corner and I'm always curious about inventing new stuff and mixing things that really doesn't fit together in theory. I like to think of it as a positive thing that I'm not an educated musician. I never have any rules and I believe that there are so many ways in making music that it's only your imagination that sets the limit. I also think what maybe separates me from other bands is that I don't stick to one formula or genre. I'm trying to constantly change my music, and to be open to all kinds of music and influences. This is one way to keep me interested in making music. You have to challenge yourself every day.
What are your plans for 2011?
I almost have two and a half new records records ready. They are all different in their ways. One is more upbeat with a electronic feel to it, the other two are more piano and guitar based. Two of them will probably see its day sometime later this year. The third one still needs a home. Anyone interested? Besides from releasing these records, I do have a goal to continue to record more stuff and try to stay as inspired as I can.
thefourohfive.com/
Spear Of Broccoli VS. World Of Centrifuge
Already a director of short films, music videos and animated movies, Frank Benjamin Finger is also one half of the electronica duo Beneva vs. Clark Nova. He started his solo career in 2009. with the album Woods Of Broccoli (How Is Annie Records), this time just as Benjamin Finger. His music cheered up both audience and critics (who recommended his debut album as one of the freshest newcomers lately). And all hopes are that it will not become just one obscure manifesto in some edge of something. For those who haven't heard the record yet, Woods Of Broccoli is a skilled balanced organic-electro-acoustic-vitamin bomb which was indeed something expected from Benjamin, at least for two reasons (in which are all other reasons, I guess): a) first/supplement - supply body-mental system with energy. And with will. b) second/cleaner - clear from brimming and the accumulate trash of the modern world. It's interesting to listen attentively to people like Benjamin, what he says about himself through influences and sights around. Is there any special preparation in everything he does, what is the spring and the road? It's a marvelous thing that after such an acquaintance, some people can, through imagination, try to make something similar and transform their music into an act of reality. Such stimulus are the most positive ones.
Plastelin: Here we are at the very beginning to find out how Benjamin developed his interest in music.
Frank Benjamin Finger - Oh! Big question... Well, hard to say really. When I grew up my dad was a musician (now retired) so music was always being played in our home (Hamar, Norway) when I was a kid. I can still remember some of the tapes he had. He used to play a lot of various artists; The Beatles, The Bee Gees, Earth Wind and Fire, George Benson. And lots of jazz artists... When I was around the age of ten, I think, my dad practically forced me to take piano and guitar lessons. He wanted me to learn notes and the scales. But I wasn't very interested and didn't want to rehearse. I remember him getting very frustrated and angry at me every time we had a lesson and I wasn't prepared. Later he hired someone else to teach me how to play the piano but with no success. I practiced a little bit more, but was never really interested. Guess I was more interested in playing football and watching movies (James Bond/Peter Sellers/Steven Spielberg films. Hence the reference to film music). I guess that I was always interested in music. I had no choice, having a father who was so devoted to it. From I was 12, I started to buy a lot of cassettes, I just didn't want to play any instruments myself, just absorb music.
What pushed you seriously to music?
- Growing up with cable TV and being able to watch English and Swedish channels certainly presented me to a whole new world when it came to discovering new and alternative music. In England you had channels like Sky (with Pat Sharp and programs like Top of the pops). Also in Sweden they had really good music coverage and showed a lot of concerts (I remember crying watching an Elvis concert with my parents) and music documentaries. I can still remember watching the documentary "Style Wars and Wild Style" on Swedish Television and being blown away by the amazing grafitti scene and the new music presented there. It really opened up a whole new world for me. Not long after, I remember meeting two American teenagers who went to Norway for their summer vacation. I met them in the playground outside our home. I invited them home and they started breakdancing in my parents living room. My father recorded them on video and I used to look at them for years. The track they were breakdancing to was by Man Parrish (Hip Hop Be Bop Don't Stop) which still sounds as fresh today as it did in 1983. The song has a really special place in my heart. I cannot imagine a band like Autechre, for example, existing without their influence. So this experience lead me to hip hop at a relatively young age. I started diving into the whole culture and found myself buying every hip hop record I could get my hands on. I listened to artists like Grandmaster Flash and The Furious Five, Melle Mel, The Rocksteady Crew, The Break Boys, Marley Mal, Afrika Bambaataa, Soul Sonic Force, Roxanne Shante, Douge Fresh and the Get Wet Crew etc... And of course loved the movies from that era; Beat Street, Breakdance... So I guess this is music that influenced me in the direction of independent/alternative music, since all of these artist were groundbreaking in their time. I think you can hear a lot of these influences in my other band, Beneva vs. Clark Nova (for example on the track "Thora's Inferno" from our debut album Sombunall). So all of these factors triggered my curiousity and got me into starting collecting music. We had some really great record shops in Hamar (The Pink Panter Shop and Rilla Platebar) where I could find more alternative music and buy rare 12 inches. I would also take the train to Oslo ocassionally (with my good friend PÂl Nyhus aka Dj Strangefruit which is making music under his project Mungolian Jet Set on Smalltown Supersound) to buy records in bigger shops. Today we are making very different music which I think is kind of fun.
Did you have some experiences through playing in bands?
- None,except for the few lessons I had as a kid. But I have been playing accoustic guitar by myself for many years, just playing chords even without knowing the names of them. My biggest experience must be that I have always been extremely interested in music (all genres throughout really). I have listened to tons of records. My ear is well adjusted and blessed to receive different kinds and forms of music. I started to experiment with electronic music in 2004 when my stepfather gave me a Mac which contained a music program called Garage Band. Here I started using the synthizeisers, loops and putting all sorts of sounds together and mixing it through different filters. And I did some tracks with my girlfriend for fun and we decided to call us Beneva. (Which is the first three letters in my middle name and her first name). Then one day I accindentally saw a note at the music library in Oslo. It said that a new label (Skrudd records, RIP) were looking for different music and new young artists to put out on a compilation. Almost like a contest. They would pick out the material they liked the best. We were fortunate enough to be selected and from there on I've been making music ever since. And this lead to being asked about doing gigs. Since I had no experience, and my girlfriend was too shy to enter a stage, I decided to contact my friend Rudi Simmons who had a lot of experince playing in numerous bands at that time. He was in for the ride and really open to the idea. And after some pretty good gigs and concerts we decided to form Beneva vs. Clark Nova. Then a few nights after a gig we were contacted by a label from Oslo called FenÈtre Records, at that time run by Jorgen Brauti and Christian Evensen (the last one quit). This lead to a relationship with the label and we ended up doing a track ("I could eat a chicken evey day") for their first compilation called Rufs, followed by a "3" inch, Flotsam/Jetsam. And this finally resulted in our debut album "Sombunall", which came out in february 2008. The response was exceeding all expectations so we decided to keep the band going.
What is the status of Bvs.CN today?
- In November we released our new album - it's called "Dramadadatic" and it is a split release between How Is Annie Records and FenÈtre Records. We will do some concerts in Norway at the end of this year and next year, and hopefully play at some festivals next year. Our big goal is to do a European tour next summer. That would be a blast! We would love to play in Copenhagen, Berlin, Paris, Barcelona and Lisbon. And travelling by train the whole tour. You see, Clark Nova is allergic to planes. And the future? We have already started recording a new album. I think it so far tends to drift into more ambient related stuff, but I think it might end up being more pop than I thought.
What took you into your parallel solo career?
- Good question. I think it comes from buying myself a new guitar and finding a different form/space to record in. I didn't think of it as solo stuff from the start. It was just sketches that wouldn't fit in or make it onto the Beneva vs. Clark Nova stuff. It just sounded like something else. The first music I recorded was just with an electric guitar plugged into my computer. It was more drone stuff or more rock orientated, like a rough Modest Mouse or Dinosaur JR demo I guess. The guitar was out of tune, had lots of fuzz layers on it and my voice was cracking up all the time. But when I bought my first accoustic guitar with a jack input on it, I started doodling and these melodies and sounds came to me. Slowly I also started to use the piano to accompany the guitar or play separate pieces that just consisted of piano melodies. And after some time I suddenly realized that I had up to ten, fifteen tracks I really liked and which thought could develop and turn into songs. So it was like a puzzle, really. I started working with each of the tracks, adding more guitar or piano layers, field recordings, female voices or whatever I found was necessary to fill in so that it could stand on its own as songs. I guess it's a very abstract way of working. Like you gradually see the fruits, or like painting actually. You keep adding things until you feel that it is enough. It took me about one and a half year to complete Woods of Broccoli.
You've already promoted the album on gigs, how is it for you to play it in a live setting and how would you describe your contact with the audience?
- Yes, I've played a couple of shows promoting the Woods of Broccoli album (support for AU from USA in Bergen). It was a really great experience, since I had to find out how to perform the album live. I brought in a friend, Are Watle to help me fill in on the sound and I think we worked really well together. He's been playing some guitar and saxophone parts. I also played some festivals (By-Alarm and Rock Am Sogn 09) but I find myself more suitable in a club environment. Lesser people and warmer sound. Guess I'm a little shy and tend to relax a bit more in smaller venues and atmospheres. But I must say that Berlin was a fantastic place to play with Bvs.CN last summer. The people I met there were really friendly and open minded. It's like they let you play whatever you want. Hope to go back there any time soon with my solo project.
Some time ago you said that you will gladly play in Serbia, are you still in that position?
- YES, for sure. I'll play in Serbia any day of the week. Always wanted to go there! Just call me ...
After all musical experiences, do you recognize your work as part of something, maybe scandinavian scene?
- I've never felt that being part of Beneva vs. Clark Nova or releasing solo albums as Benjamin Finger has made me feel part of the Scandinavian music scene. Even though both projects have recieved attention home and abroad and critically had a lot of success, it still feels like I/we are outsiders. But when we played in Berlin things changed a bit and I felt that it was really inspiring to play to a whole new audience. I guess if I lived in a bigger city things would be different. Oslo is really small. When you have played at five,six places or so, there really aren't any more venues to play at except maybe for some festivals during the year. And by the way, I'm not really trying to or want to be part of the establishment with my music. I feel really good about being somehow left alone to my own devices and being able to produce exactly the records that I want to make without having to deal with compromises etc. And that's a really wonderful thing about How Is Annie Records, they trust you to come up with your best material without interfering. A big thumb up to Morten Samdal and the staff!
Knowing your personal interest and multipotential of your music, did you have plans to work on soundtracks? To make the question a bit wider. What are your current plans?
- No, not yet. But it would be a dream to create the score for a film that I really liked. In my wildest dreams I wish I could have done it for Vincent Gallo's debut film "Bufallo 66" or Julio Medem's "The Lover's of the Artic Circle", two films I absolutely adore and keep coming back to. I've used some of my own music in short films that I have directed earlier and will be using some of my music when I'm directing my new short movie in a while. Current plans? Well, these days the new Beneva vs. Clark Nova record "Dramadadatic" has just hit the stores. And we will start to record stuff for our third album right after the promotion and touring. I hope the American photographer Sandy Skoglund will do the artwork on the next records as well. I'm also doing the last mixes for my new solo album "For you, sleepsleeper" which should be out somewhere between February/March next year. I'm really psyched on that release since it differs quite a lot from Woods of Broccoli. This one is more up-tempo and contains some shoegaze, ambient, jazz and techno related stuff. My plan is to release solo albums that are really different from each other, but that still has my signature on it. I've been lucky enough working with Bryan Voell (USA) who makes these great collages and he has done wonders for the artwork on the new album. I will also be making new music videos for Beneva vs. Clark Nova and for my new solo record. Stay tuned! Here's my youtube channel: http://www.youtube.com/user/frankbeneva
Remix CD's are very popular these days. Is there any criteria on which you will choose artists for co-operation, someone from whom you will want to hear a reinterpretation of the music you've made. Do you wish to do something like that?
- Ah, yes! Of course. I think most artists that are open will find it interesting to hear interpretations from other musicians remixing their stuff. I guess you can also learn about your own music from that. So a remix cd would definitely be something to think about in the future. But I feel somewhat new to the idea of being a solo artist and would like to release about three records at least before I'm thinking about having someone remixing them. But artists I would love to collaborate with would be people from the Norwegian underground scene that I like and some foreign artists. I'm afraid to mention their name yet, have to really think it through carefully.
Escapism is named as one of your biggest influence. What is escapism for you and on which level does it affect you?
- I use the term because I think it defines the music on "Woods of Broccoli". What people put in the term can be different from person to person. For me it is about getting away from every-day life, trying to create an own personal space, (like going to therapy I guess). Just as the term implies, you can say that I tend to drift away into a zone, blocking out things that you have deal within the adult world and being very romantic about it, hehe...For good or worse. This is also one of the reasons why I don't read the newspapers or watch TV. Even though I have worked as a music video producer for NRK (Norwegian Broadcasting Corporation) on "Kometkameratene" after I finished film school. But I do listen to the radio every day. It's such a great medium and tends to keep you focused as a listener.
Do you eat broccoli? Is it some kind of fuel for you?
- Of course, YES, indeed. Everyday! I guess you could call it fuel for me. I feel that it cleans my body. And it contains iron, which is good for you.
Tom Sawyer or Harry Potter?
- Definitely Tom Sawyer. I used to be an addict watching Tom Sawyer and Huckleberry Finn on Swedish Television when I was a kid. Simply loved it. That is what I call escapism.
Swimming or skiing? Bicycle or car?
- Swimming. I can swim for hours during the warm seasons. The best exercise in the world. And bicycle. Allthough I always seem to wreck them. I don't have a drivers license and I will never get one. Afraid of traffic. Not my world and I don't understand the rules. And why are there so many aggressive drivers out there? Freaks me out.
Do you have a category of fave CD, books... What occupies you in the moment?
- Oh la la! That's really a tough one. Let me just say that my whole appartement consists of records, books and films (I mean a lot). Let me see... Favorite cd for the moment is difficult to answer because I listen to so many every week. But let me just say that I love Arthur Russel's album; "The world of echo". It's such a beautiful and groundbreaking album. Escapism at it's best. The book I'm reading at the moment is Mikhail Bulgakov's The Master and Margarita and I'm so thrilled about it. Can't wait to go on reading. Other writers that I really love and adore are Witold Gombrowicz, Julio Cortazar, Robert Walser, William S. Borroughs, Boris Vian, Andre Breton and Thomas Pynchon to name a few. Of the Norwegians writers it has to be Jens Bjorneboe, Tor Ulven, Kjell Askildsen, Thure Erik Lund, Jon Fosse and Stig SÊterbakken. Movies... I've just bought two box sets, volume 1 and 2 by Claude Chabrol (consists of 14 films) and Eric Rohmer (8 films) so I'm going through these French films at the moment. I really think they have created wonderful plots and have their own way of thinking when it comes to narration, telling a story etc. Other directors that I really like are; Louis Malle, Krzysztof Kieslowski, Francois Truffaut, Julio Medem, Woody Allen, Jean-Luc Godard, Werner Hertzog, John Cassavetes, Wes Anderson and Jim Jarmusch. The list could go on and on...
God. Religion. Or both?
- I was raised as a catholic since both my parents are from Poland. I don't attend to masses anymore (I was forced to go every sunday as a kid, it was a drag!) but still I find myself believing in something, even though I tend to think of it as something more abstract. Saying that, I've also caught myself praying at night sometimes. And I must say that I remember really liking the music in the catholic ceremony. Especially the choir voices at times. I guess I really believe in something - how can you not? - seeing what state the world is in. Will we ever get rid of these stupid wars?
Author: Mileta Okiljevic