Ludo - jazz prerade Stockhausena.
streaming
Pianist and arranger
Bruno Heinen
was heavily interested in composer Karlheinz Stockhausen from an early age. The luminous presence of wind-up music boxes from his childhood are at the heart of his exquisite arrangements of Stockhausen's Tierkreis.
Both Bruno's parents – cellist Ulrich Heinen and violinist Jacqueline Ross – had worked with the composer and electronic music innovator Karlheinz Stockhausen in the 70's in Germany when he composed Tierkreis (1974-5) for 12 music boxes. Bruno's father had acquired 4 of the music boxes, and Bruno's fascination with the piece began in the family home.
Tierkreis (meaning "the signs of the Zodiac") has 12 melodies based on tone rows, one for each star sign. Heinen has adhered to Stockhausen's brief instructions for the popular work, allowing for any combination of instruments, but that the performance should begin with the melody falling under the star sign of the selected date, and end with a repeat of the opening melody.
Heinen brings his classical training and jazz sensibility, with traces of funk, west coast flavour and Blue Note inflexions, to his substantial reworking of the composer's ideas. Certain movements include improvising with the melodies and music boxes, while others involve reharmonising. His sextet of distinctive players bring their diverse experience to their readings and improvisations.
Stockhausen was a great believer in improvisation, and his influence rubbed off on a wide array of jazz musicians during his lifetime and since, including Miles Davis, Cecil Taylor and Herbie Hancock.
It's five years since Heinen first arranged Tierkreis for a jazz sextet, but in 2010 he also arranged the work rather differently for cello, double bass and piano for a performance that also included his father Ulrich Heinen, the long time principal cellist of the City of Birmingham Symphony Orchestra.
Tierkreis recorded with Markus Stockhausen's blessing, in April 2012 at Eastcote Studios, was produced by Philip Bagenal and Bruno Heinen. The album is dedicated to Heinen's former teacher, the pianist and composer, Pete Saberton, who died in 2012. -
www.weirdomusic.com/
...the shiniest jewel in this particular Babel crown is Karlheinz Stockhausen's Tierkreis as realized by the Bruno Heinen Sextet. On this superb collection, the London-based pianist Heinen leads a band featuring trumpeter Fulvio Sigurtà, bass clarinetist James Allsopp, tenor saxist Tom Challenger, bassist Andrea Di Biase, and drummer Jon Scott through a jazz-styled interpretation of the composer's 1974-75 work Tierkreis. The title, which translated refers to the signs of the zodiac, figures significantly into the tone row-based work's structure, as the composition features twelve melodies, each one representing one of the star signs. Adding to the work's distinctiveness, Tierkreis originally was written for twelve music boxes as part of a children's theatre piece called Musik im Bauch (Music in the Belly).
There are certain guidelines the musician is instructed to follow—a given performance must start with the melody associated with the star sign that coincides with the performance date, and the presentation should proceed through all twelve signs before ending with a recapitulation of the opening melody—but Stockhausen also designed the piece so that it could be played by any instrument or combination of instruments. It's a perfect vehicle, then, for someone with Heinen's visionary bent; it's also a natural choice, given that his classical-musician parents, cellist Ulrich Heinen and violinist Jacqueline Ross, performed the piece with Stockhausen in the '70s.
The recording begins with the sound of a music box being cranked, after which the haunting "Aries" theme is voiced by the music box and piano in a captivating duet that highlights Heinen's delicate touch and technical command. Thereafter, the group covers multiple bases, from fiery blowing (the militant "Leo" and funky "Scorpio") to sensitive ballad renderings ("Gemini"), with some pieces accentuating improv and others intricate arrangements. In a lovely small-group treatment of "Gemini," Challenger's burnished tenor gives the piece a late-night feel that's sensitively supported by Heinen's piano, Di Biase's bass, and Scott's brushes. The band wraps the bluesy "Cancer," on the other hand, in an intricate arrangement that still allows ample room for Sigurtà and Heinen to solo. In a few instances, the group veers away from a jazz approach for something more conservatory-styled, such as "Virgo," a contemplative setting for trumpet, piano, and musical box, and "Capricorn," which sees Allsopp and Sigurtà taking splendid solo turns.
No listener coming to the recording need be intimidated by its background details, as Heinen and company make Stockhausen's music as accessible as it could possibly be. In their hands, the material turns into inspired jazz ensemble settings that feel in no way constrained by Stockhausen's writing. An occasional music box appears to re-affirm the work's originating identity, but for the most part the album's a fifty-five-minute document of free-flowing exuberance. The playing is at a consistently high level, and the album is an absolute delight from start to finish, one that can be admired on conceptual grounds as well as enjoyed at the immediate, purely musical level. Babel spared no expense in the release's presentation either, as Heinen's disc is complemented by a vibrant sleeve design and accompanied by an equally striking poster, whose playful display is an ideal complement to the music. - textura.org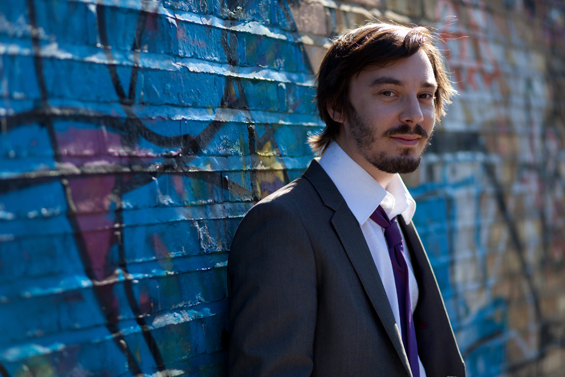 photo: Michele Rossi
FIVE QUESTIONS WITH BRUNO HEINEN
Many a young jazz pianist approaches a recording's track listing with some degree of conservatism guiding the process, with a judicious number of originals typically joined by respectful renderings of standards like "Stella By Starlight" or "Solar." Others, however, forge bolder paths, and a stellar example of this rarer type is UK-based Bruno Heinen, whose latest release offers nothing less than an interpretation of Karlheinz Stockhausen's Tierkreis (meaning "the signs of the Zodiac"). Heinen, a one-time classical piano student at the Royal College of Music and now Guildhall School of Music and Drama teacher, was introduced to the work at an early age, as his parents, cellist Ulrich Heinen and violinist Jacqueline Ross, worked with Stockhausen in the '70s when he composed it. Heinen's sextet recording of the material presents a marvelous fusion of classical and jazz forms that both honours Stockhausen's work and provides a wonderful showcase for the talents of the group's individual players. We thank Heinen for taking the time to speak with us recently about Tierkreis and his other projects.
1. Twinkle Twinkle, the 2012 album you issued under the Dialogues Trio name along with bassist Andrea Di Biase and drummer Jon Scott, drew its inspiration from a set of tunes inspired by the nursery rhyme, and your new Bruno Heinen Sextet album presents jazz-styled interpretations of Karlheinz Stockhausen's Tierkreis. One naturally wonders what you might do to follow up on such imaginative and audacious projects. Do you have anything in mind or is it still too early to know what project you're going to tackle next?
I am currently working with Kristian Borring, in my opinion one of the finest guitarists in the country. We are working on a duo project arranging the lesser-known compositions of my biggest influence, Bill Evans. The project/album will be called Postcard to Bill and is in homage to his long-time partnership with guitarist Jim Hall.
2. While well-intentioned, classical-jazz fusions sometimes look better on paper than they sound in practice. Your rendering of Tierkreis, on the other hand, strikes me as a near-perfect realization of Stockhausen's work, as you haven't compromised its integrity in any way while still making it as accessible an interpretation as could possibly be imagined. Furthermore, rather than the classical and jazz elements being awkwardly conjoined, you've integrated the two dimensions seamlessly. Was it difficult for you to determine the approach to use in bringing Tierkreis to life, or did it come about in organic manner?
Firstly, thank you for your kind words. I have been working on this arrangement since 2006, so a lot of time has gone into working and re-working the material. I wanted as much of the original score to come through while at the same time adding my own ideas to the work. I would say that the arranging came about in quite an organic way. There is so much in the original melodies, even if they are only a few bars long, so I simply let the original score speak to me in terms of how to arrange the piece.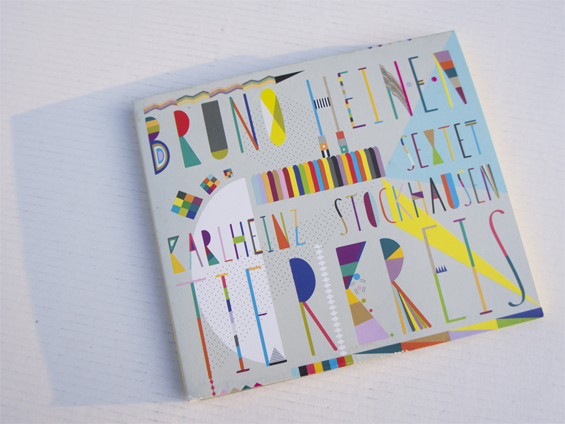 3. To what degree (if at all) did Stockhausen's music and sensibility influence you and your fellow musicians when it came to the soloing aspect of the recording? Were you attempting in any way to hew to the composer's sensibility in fashioning a solo or was it more a matter of using a standard's chord changes as a guide as a jazz musician might?
This came up several times in the recording. In "Capricorn," for example, James Allsop played his first take of his solo (with accompaniment from the Stockhausen music box) based quite heavily on the original harmony. Despite the take being very good, it was not what I wanted. I told my musicians instead to simply improvise around the melody they were hearing, without constraints of harmony or rhythm. The second take was beautiful.
4. Apparently you have quite a historical connection to Stockhausen's work, given that your parents, classical musicians themselves, performed the work with him in the 1970s. Could you bring into clearer focus the nature of the relationship, professional and personal, that existed between your parents and the composer, and how that developed into your own relationship to Tierkreis?
My mother, who is a violinist, and father, who is a cellist, went to Germany having finished their studies at Julliard. They were heavily involved in the Darmstadt contemporary music festival where Stockhausen was teaching. They were also playing with many musicians who were in Stockhausen's close circle of friends, and this is how they acquired the original music boxes.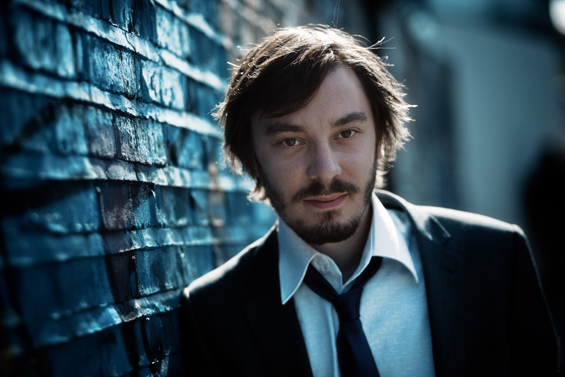 photo: Michele Rossi
5. Given that many a young jazz pianist follows a somewhat conventional career path that involves releasing recordings featuring originals and standards and playing in the group of an established veteran, you seem to be doing anything but following the usual script, so to speak. For example, in addition to the aforementioned recordings, your website also reveals that you' re part of a duo project with Palestinian Singer Reem Kelani that focuses on traditional Palestinian, Egyptian, and Persian music. Where did this boldly adventurous streak come from?
I think we are living in changing musical times that need adaptable musicians. The days of musicians playing one style of music for their whole lives are long gone. We are now expected to be able to play almost anything, and I for one relish that. It is all music after all, and I feel that every different style we play feeds into every other. I would be very bored just doing one thing.
I am glad you have mentioned my work with Reem. Working with her has been a huge part of my musical life for many years now, and she is such an inspiration to me. I have always loved playing many different styles of music. I grew up playing classical music, and now play in all kinds of groups, including a project with the master tabla player Sirish Kumar, the Ska band The Big Steal, and the jazz and reggae guitarist Alan Weeks. I don't know if I think of myself as adventurous, as every different style feeds into the other. It's all music, after all. - textura.org